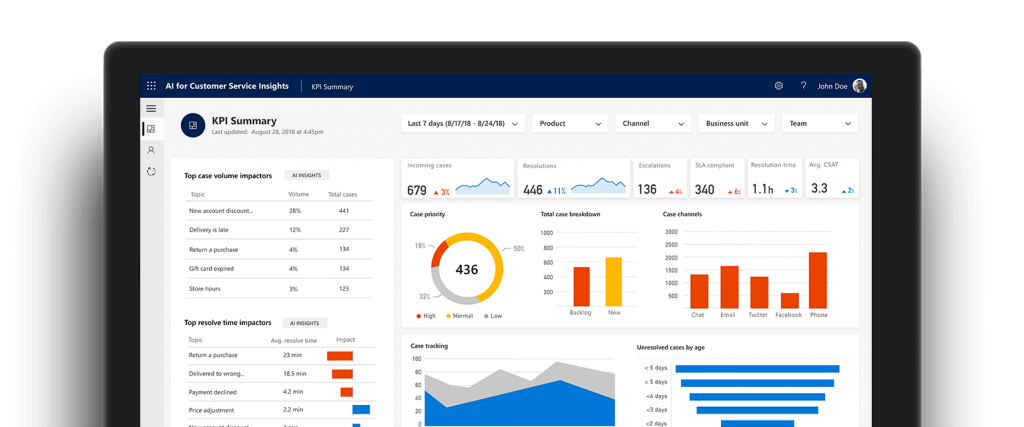 Microsoft's popular Dynamics 365 software is a combination of ERP, CRM, and BI solutions into a single product offering.
It is a business platform that integrates all your departments and their operations, to give you crucial insights to optimize and increase visibility in your organization.
There are two different ERP's to choose from within the Dynamics 365 family:
Microsoft Dynamics 365 for Finance & Operations (D365 FO) – formerly Dynamics AX
Microsoft Dynamics 365 Business Central (D365 BC) – formerly Dynamics NAV
Microsoft re-branded its all-in-one business platform, Dynamics NAV to Dynamics 365 Business Central. This new software application offers enhanced capability and a single, end-to-end solution for managing finances, sales and customer service. It has also transitioned the powerful Dynamics AX product from a legacy on-premise solution to the pure cloud Dynamics 365 Finance & Operations model.
What is ERP?
ERP is an abbreviation for Enterprise Resource Planning.  It is a system to help streamline business processes that result in making more informed decisions, thus making them an essential tool for growing organizations. These days, no business with a focus on growth should be operating without an ERP system.
Let's look at both ERP offerings from Microsoft to determine which path is right for you.
What is Microsoft Dynamics 365 for Finance & Operations?
Widely regarded as Microsoft's most advanced ERP solution, on par with SAP Business 1 or Oracle, Dynamics 365 Finance & Operations is designed to fuel steady business process transformation efforts across market segments.
Benefits include:
Run smarter with connected operations
At-a-glance dashboard reporting and data analytics
Optimize employee productivity with easy integration to Office 365 applications and other Microsoft productivity tools such as PowerApps and Flow
Automate and streamline you supply chain
What is Microsoft Dynamics 365 Business Central?
Dynamics 365 Business Central is the latest version of Dynamics NAV, now available as either on-premise or online as a pure-cloud SaaS model application.
Users of Dynamics NAV will notice that Business Central includes all the essential features they are familiar with. That's because D365 BC runs on the same application code as Dynamics NAV.
However, while D365 BC does share the same code base as NAV 2018, the latest version includes all the functionality currently seen in NAV, with new features and added functionality, and a brand-new interface.
Benefits include:
Improve sales and customer service by prioritizing sales leads based on revenue potential
Deliver projects on time and within budget by easily creating and tracking customer projects using detailed timesheets
Protect your data and support GDPR compliance
Manage your financials by connecting data across accounting, sales, purchasing, stock, and customer interactions, enabling you chart financial performance in real-time and make informed decisions
While both ERP packages have a number of functional similarities, they also have a number of differences between them, which can determine what solution is best for your business.
We have consultants experienced in each system that can help you determine the best fit for you.
How much does Dynamics 365 ERP cost?
The cost will vary depending on the number of users and the features your business needs.
For D365 FO, a solution designed for medium to large organizations, costs start at $190/user per month on the Unified Operations plan and go up to $210/user per month for the full Dynamics 365 plan.
For D365 BC, costs start at $70 per user/month for the Essentials plan and $100 per user/month for the Premium plan.
Which ERP is best for you?
Dynamics 365 Business Central or Dynamics 365 for Finance and Operations?
Get in touch with one our Consultants at Calsoft to help guide you to the best ERP system fit for your business.