Automotive and Fleet
Microsoft Dynamics NAV (formerly Navision) Elva DMS will enhance small and midsized businesses with complete control over core business processes. With precision for perfecting the business's supply chain, all employees will benefit from a higher standard in workflow that allows them to perform at their best.
With great capabilities for supporting multi-national companies, multi-site companies, and multi-language requirements, the solution is ideal for automotive dealers, maintenance and parts service companies of any fleets; ranging from cars, motor bicycles, trucks, buses, tractors, construction machinery, carts, and cargo. Additionally, they can also be easily customized to meet more unique business requirements for those industries.
Business/Industry
Calsoft DMS/ERP team have the in-depth product knowledge, skill, method and experience needed to successfully implement Elva DMS on Microsoft Dynamics NAV for your business and industry as follows.
Automotive Dealer
Automotive & Fleet Maintenance and Repair Service
Tuning & Modifying Service
Spare Parts and Market Parts Dealer and Service
Heavy Equipment Rental and Service
Construction Machinery Dealer, Service Parts and Maintenance
Agricultural Machinery Dealer, Service and Maintenance (TRACTOR AND HARVESTER ETC.)
Boat and Marine Parts Service and Maintenance
Golf Cart Dealer, Service and Maintenance
Charter Bus Management and Public Transportation Service and Maintenance
Cargo Management and Maintenance
Airport Transportation Service and Maintenance
Suppose you have worked hard to build a vision for your business. With Microsoft Dynamics® NAV DMS solution, you can turn that vision into reality. With a solution that gives you control over and visibility of what's going on in your business, you'll increase your ability to make smart decisions that impact your operational efficiency, growth of sales revenue, margins and improve your cash flow—ultimately driving your business growth.
Today, more than 300,000 customers are using Microsoft Dynamics solutions in 42 countries, driving their business to success— and staying ahead of the competition.
Benefit of Elva DMS on Microsoft Dynamics NAV
World's Best ERP on Standard Platform
Elva DMS / Microsoft Dynamics NAV is the world's best ERP software for medium to small businesses, ; fully integrated with Office 365, Share Point and secured by Microsoft Azure. Elva DMS and Microsoft Dynamics NAV allow you to work from anywhere and from any device that is connected to online as well.
All in One Solutions
Elva DMS / Dynamics NAV is an all-in-one solution – the full package of ERP + DMS + CRM, including financial, operation, warehouse management, e-commerce, manufacturing, project management, etc.
Stimulate Dealers and Service Operation
Elva DMS / Dynamics NAV provides you with not only the standard process of operation but also with fully adaptable functionalities, specific your needs. It is easy to make any modifications to fields, reports, or screens based on your needs.
Financial Management
Efficiently manage bookkeeping and inventory
Simplify cash flow management
Control fixed assets
Process bank reconciliations and collections
Work with multiple currencies, locations, legal entities, or companies
Vehicle Sales Management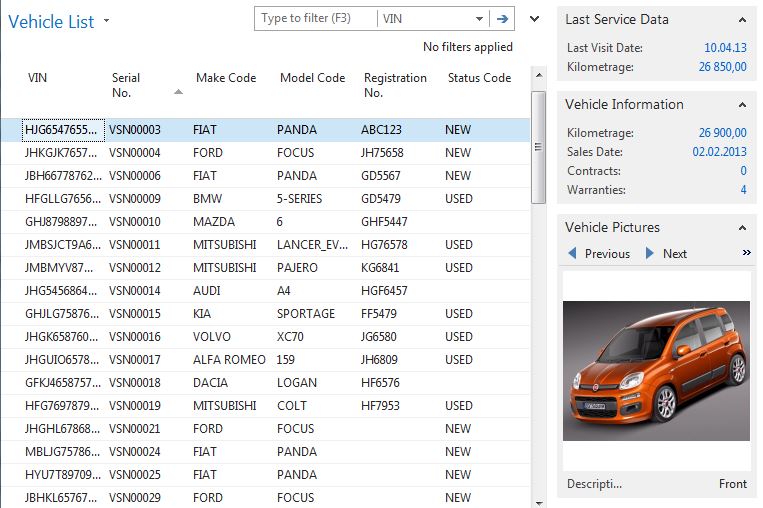 Vehicle Sales Process Management
Car Trade-in Management
Car Purchase Management
Vehicle guarantee information management
Pre-delivery Inspection (PDI) Management
Vehicle Insurance Management
Vehicle Web Shop
Service Management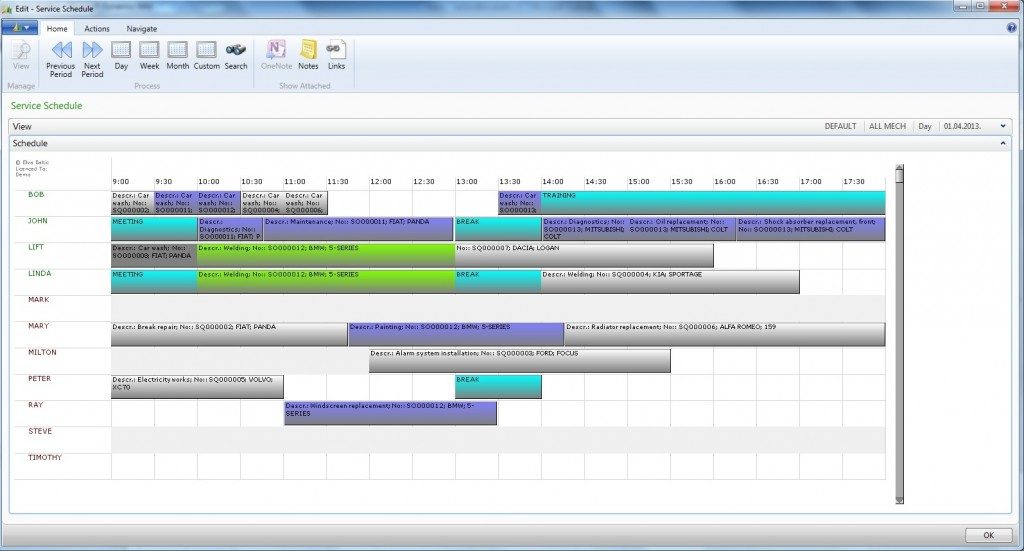 Scheduling & Planning
Barcodes for service management
External Service Management
Service History Management
Service Document Management
Vendor Item Management
Insurance Financial Management
Spare Parts Management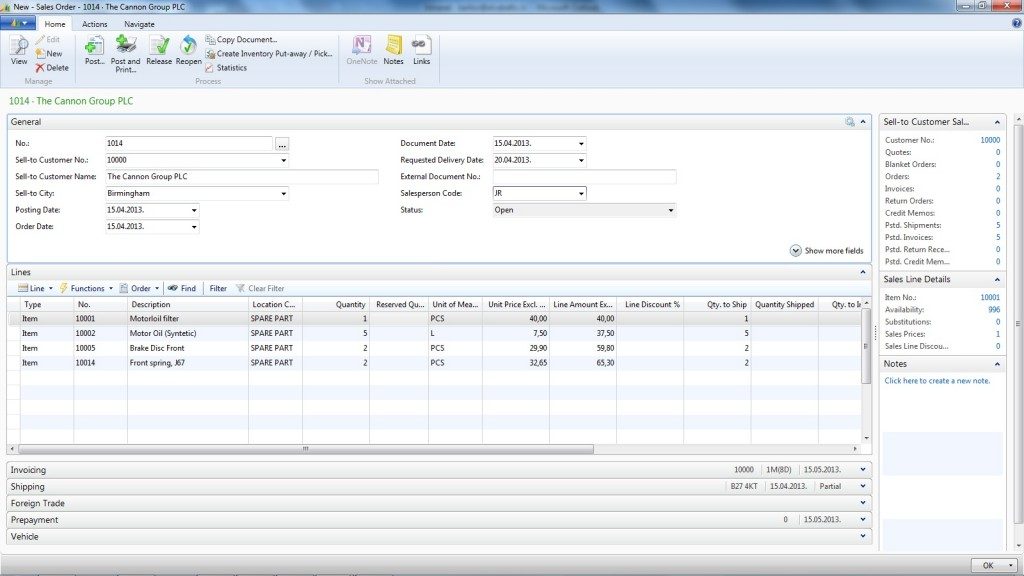 Spare Parts Sales Management
Non-stock Item Management
Spare Parts Booking
Sales Document Management
Spare Parts Sales Budget
Spare Parts Item Substitution
Barcodes for Spare Part Management
Spare Parts Purchase
Customer Relationship Management
Loyalty Management
Contact Management
Marketing Management
Task Management
Opportunity Management
Inventory Management
Spare Parts Replenishment
Warehouse Management
Multi-location Stock Management
BI & Reporting
Intrastat
Manage budgets
Create custom reports using step-by-step wizards
Consolidate reports easily
Human Resource Management
Attach comments to employee records
Track absences
Generate reports
Equip employees with familiar tools
Remember birthdays and celebrations
Other Functionalities
Mobile app
Document Management
Multiple Language
POS & Retail Integration Management
Integrations & Interfaces
Project Management
Manufacturing Process Management
Vehicle Marginal VAT
Elva DMS's User : Auto Delaers
Volvo
Mercedes Benz
Audi
Bentley
Ford
Nissan
Peugeot
Yamaha
Mini
Kia
Dacia
Volkswagen
BMW
Land Rover
Subaru
Mitsubishi
Isuzu
Citroën
Hyundai
Renault
Tata
Foton
Mahindra
Skoda Auto
Common Pains & Solutions
1) SERVICE COMPANY
PAIN: Managing vast number of spare parts and having no system to overview service work.
SOLUTION: Microsoft Dynamics NAV DMS solution allows users to follow up additional maintenance work and create future service orders based on it to ensure business efficiency. Elva DMS solution provides a complete service history of any given vehicle; not only regarding works that were done, but also relating to any additional jobs that are required and quoted previously, but the customer did not authorize.
2) FLEET MANAGEMENT
PAIN: Need to obtain more information and control regarding internal service management operations and fleet resource usage. Need for industry specific ERP system, designed to optimize everyday work in the services.
SOLUTION: Microsoft Dynamics NAV DMS solution delivers needed functionality for the organization's in-house fleet management. DMS provides users with easy access to fleet repair and maintenance history, increased efficiency in workshop organization, control over and improvement in fleet management workflow, precise fleet resource planning, and much more.
3) FLEET MAINTENANCE
PAIN: Flaws in accounting. Need for greater control of company's assets in order to make data more transparent and reduce fuel expenses.
SOLUTION: Microsoft Dynamics NAV DMS solution provides users with easy access to fleet repair and maintenance history, increased efficiency in workshop organization, control over and improvement in fleet management workflow, precise fleet recourse planning, waybill processing and planning, and much more.
4) TUNING & MODIFYING
PAIN: As various specialists from different departments are involved in the vehicle modification processes, there is a need for precise service scheduling and instant re-scheduling.
SOLUTION: Microsoft Dynamics NAV DMS solution scheduler ensures precise mechanic and equipment planning, together with automatic re-scheduling for every resource involved in the process. This reduces service downtime and helps the business to be run effectively.
5) VEHICLE DEALERS/SERVICE COMPANIES
PAIN: Multiple branches in different locations.
SOLUTION: Microsoft Dynamics NAV DMS solution offers multi-location, multi-brand, multi-currency, multi-language, multi-dimension and multi-localization management. It allows clients to manage their businesses in several locations and even countries.
6) SERVICE COMPANY
PAIN: Difficulties of inter-department collaboration.
SOLUTION: Microsoft Dynamics NAV DMS solution, collaboration between departments is paperless – all data can be transmitted electronically, saving employee time and work.
7) COMMON DEALER AND SERVICE COMPANY
PAIN: Working with multiple systems.
SOLUTION: Microsoft Dynamics NAV DMS solution is an all-in-one system with end-to-end functionality.
the elva dms microsoft dynamics nav is your solution