Accelerate Your Global Expansions
Discover Plug-and-Play ERP Implementation Templates


Address
19701 Hamilton Ave.
Torrance, CA 90502

Unlock the Full Potential of Your Global Expansions with Our Unmatched Value Proposition
The Calsoft global template service offers comprehensive and guided solutions to empower businesses to deploy global ERP systems and achieve their objectives efficiently. Through a meticulous understanding of Business Goals, ERP project objectives, technical requirements, and unique characteristics of both headquarters and each global entity, Calsoft ensures a successful implementation.
Our approach to ERP implementation is comprehensive, taking you through 10 distinct phases. The first three phases emphasize careful planning, offering flexibility through a mix-and-match process to create a solid foundation for success. As we progress to phases 4 to 10, we transition from planning to action, guided by experts, standardized processes, and refined strategies. Our focus remains on maintaining quality and minimizing risk. Drawing on our experience, we fine-tune operations to ensure an efficient and effective ERP implementation.
As part of our commitment to business consultation, Calsoft goes beyond establishing a proven global template based on industrial best practices. For Example, by identifying superior practices among global subsidiaries, we dynamically enhance overall operational standardization, benefiting headquarters and branch levels alike.
With prestigious recognition as a Microsoft Partner of the Year and extensive ERP implementation experience across various industries, such as Wholesale Trade, Transportation and Warehousing, Manufacturing, and Professional Services, Calsoft's global template service empowers businesses to achieve their objectives and efficiently deploy global ERP systems.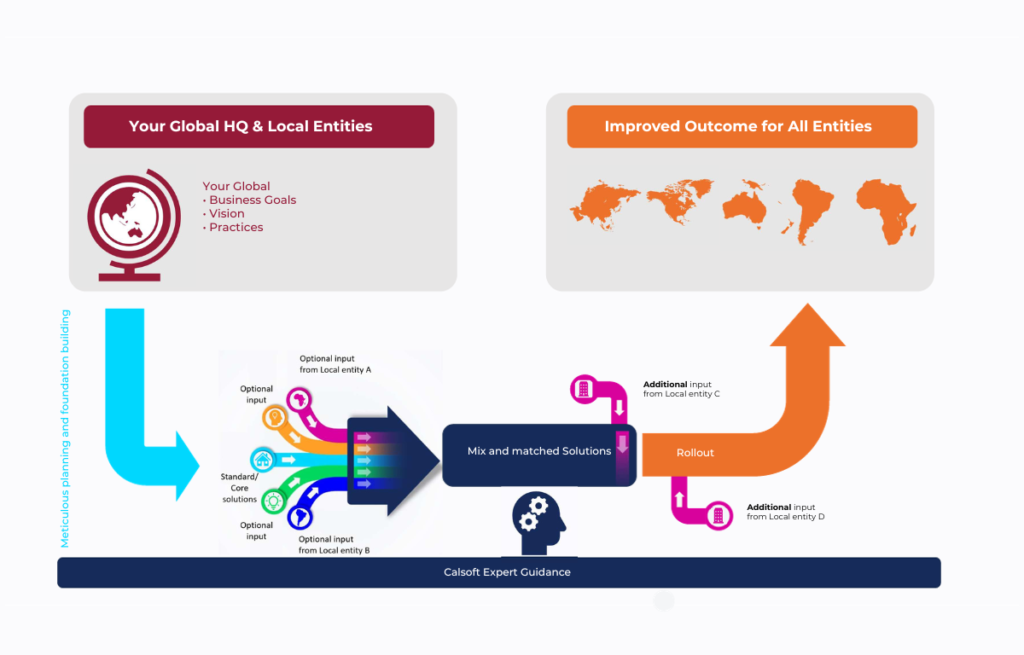 Key Benefits of Global Template Services

Tailored Solutions
The Calsoft global template service offers customized solutions based on specific business goals, ensuring a comprehensive understanding of objectives and technical requirements for a successful ERP implementation.

Expert Guidance
Clients benefit from Calsoft's expertise, including expert guidance in designing operations, proven global rollout schemes with established templates, and application of industrial best practices, resulting in standardized and efficient operations.

Improved Outcome
The global template service increases the project success rate, reduces implementation risks, and minimizes future rework, resulting in a streamlined and cost-effective ERP deployment that aligns with business objectives and enhances overall performance.
Business Goals You Can Achieve
Implementing Calsoft's Global Templates results in a unified and meticulously structured item master data system that seamlessly integrates across subsidiary companies and the headquarters. This ensures consistent naming conventions, rule enforcement, and management guidelines, eliminating conflicts within different entities' master data.
Additionally, it enables global management of critical components such as the Chart of Accounts (COA), Customer Master, and Vendor Master, all without the risk of conflicts. This holistic approach leads to streamlined operations, accelerated financial report closures, real-time inventory visibility, standardized approval workflows, cohesive data analysis, and enhanced compliance efforts. The result is heightened efficiency and an overall improvement in business performance, making Calsoft's Global Templates a vital asset for your organization.

Accelerating Financial Data Closure




Standardization & Approval Flow

Evaluating Our Global ERP Roll-out Template Service for Your Company
Experience Game-Changing Benefits

Cost Reduction
Slash your expenses and boost profitability

Enhanced Performance Analysis
Elevate your business insights to new heights

Improved Risk Management
Enhance your compliance and fortify risk management

Optimize Inventory Management
Streamline your inventory for optimal efficiency

Data-Driven Decisions
Empower your team with insightful analysis

Financial Report Consolidation
Unifying financial data for informed decision-making
Tailored Solutions for Global ERP Challenges
Our service is designed to meet the unique needs of top executives, including CEOs, COOs, CTOs, CFOs, and global company management. Our specialization lies in tackling the complexities of global ERP system implementations. Calsoft's ERP templates, forged through years of experience, ensure high-quality and efficient deployment within diverse organizations. By choosing us, IT managers and project leaders acquire invaluable resources and guidance to navigate potential challenges seamlessly. Drawing from our extensive ERP journey, we've cultivated practical insights to offer and empower your business further.
10 Phases of the Global Template Services
The ERP implementation follows a well-structured approach comprising several key phases. Phase 1 involves understanding customer business goals and decision criteria, while Phase 2 focuses on incorporating local requirements and clarifying Microsoft Dynamics (MSD) implementation. Drawing on past experiences, Phase 3 develops a pragmatic implementation plan, and Phase 4 provides PMO support for consistent management and designs policies to streamline operations. The creation of standard requirement masters/parameters further enhances deployment quality. Phases 5 to 10 optimize development and establish a document library for better organization. Implementation of policies and parameters ensures both quality and cost reduction. Integrated testing, user training, and support lead to enhanced management, while Phase 10 involves a comprehensive system release plan and ongoing support, contributing to the ERP system's overall success and sustainability.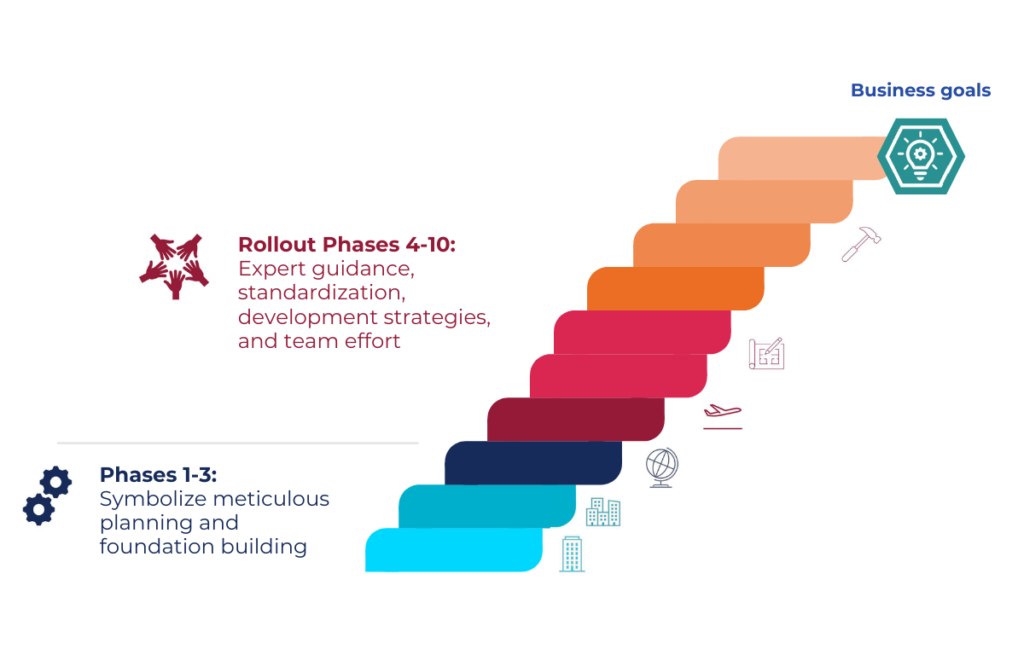 The global ERP project comprises 10 essential phases, designed to ensure success. While all phases are crucial, the first two are particularly pivotal.
Phase 1: Define Objectives
Understand customer goals and expectations.

Clarify decision criteria.

Create standardized requirements.

Visualize future processes.

Consider MSD functionalities for risk mitigation.
Phase 2: Incorporate Local Requirements
Gather local input for tailored operations.

Maintain system standardization.

Ensure project objectives are met.

Enhance compliance, risk management, and cost reduction.

Focus on process optimization and business performance.
Phase 3: Realistic Plan
Utilize past ERP project experiences.

Optimized development.

Cost reduction through planning and standardization.

Tailored solutions and alignment with best practices.

Proven rollout schemes and templates.

Standardized parameters and policies.
Phase 4: Project Management Support
PMO support for consistent project management.

Design policies for efficient operations.

Create standard requirement masters/parameters.

Phases 5-10: Development Optimization

Establish a document library for better organization.

Implement policies and parameters.

Integrated testing.

Comprehensive user training.

Ongoing support for issue resolution.
Phases 5-10: Development Optimization
Establish a document library for better organization.

Implement policies and parameters.

Integrated testing, user training, and support.