Microsoft Dynamics 365 represents the next generation of business applications. The Dynamics 365 branch of ERPs offers two solutions, Business Central and Finance and Supply Chain Management (Finance and Operations), which were previously known as NAV and AX. Both are comprehensive end-to-end ERP solutions capable of meeting complex business requirements and operational needs. However, there is still a bit of confusion when it comes to choosing the right Dynamics 365 solution. We thought it was only appropriate to provide a high-level overview about the functionalities of both platforms.
Microsoft Dynamics 365 Business Central
Dynamics 365 Business Central (BC) is a revamp of NAV. It comes with all the functionalities of NAV, but now users have the option to host their ERP solution on premises or in the cloud. BC is for small to medium size of local as well as global companies in Americas, Europe and Asia. It comes loaded with new functionalities and a more user-friendly interface.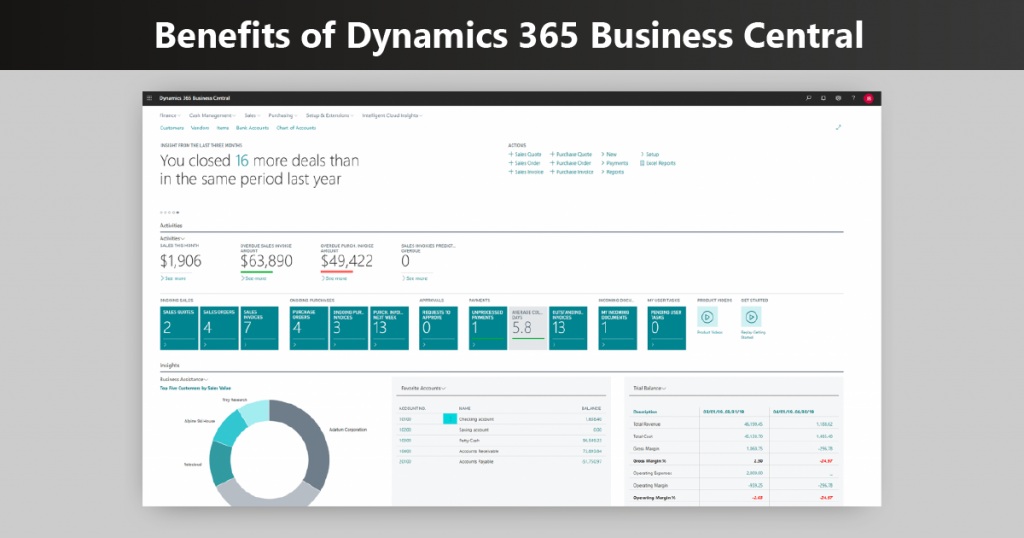 Benefits of Dynamics 365 Business Central:
Provides easy financial management by connecting data across business functionalities like accounting, sales, and purchasing, as well as including data from customer interactions. Drill down from your General Ledger to Invoice, PO, and item information.
Has built-in intelligence functions for PO lead time and Inventory management that can predict when a specific SKU needs to be stocked.
Very easy to develop the interface to integrate with other outside systems by using interface tool.
Better compliance; with D365 BC you can meet your accounting compliance in over 140 countries.
Can prioritize sales leads based on revenue potential with the built-in basic CRM functionality, therefore leading to an optimized sales cycle.
Schedule service calls and set up service orders, with the basic field service functionality. Additionally, provide service estimates and service invoices and assign service personnel based on skill and availability.
Microsoft Dynamics 365 Finance and Supply Chain Management
Dynamics 365 Finance and Supply Chain Management (F&SCM) on the other hand is a revamp of AX. Just like BC, it can be hosted either on prem or in the cloud and comes with modular capabilities allowing users to pick only the apps and features they need. Finance and Operations is positioned as an integrated enterprise solution for medium to large companies all over the world.
It is a platform that can be easily integrated with other Microsoft Dynamics 365 solution families like Sales(CRM), Talent, Customer Service, Marketing platforms. Additionally, Finance and Operations tightly integrated with Microsoft's application family: Office 365 (Outlook, Teams, Excel, Word, share Points), Power BI, Power App etc.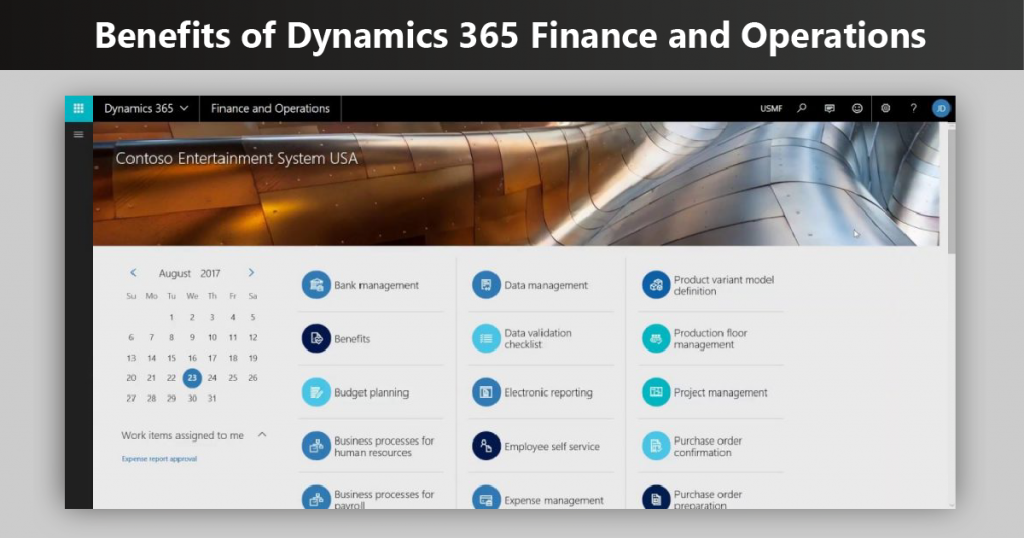 Benefits of Dynamics Finance & Supply Chain Management
User-Friendly design, easier to learn. Allowing users to focus on their job and be more productive
Adapt to a rapidly changing market with agile and efficient manufacturing operation automaton capabilities
Flexible and powerful accounting functionalities to allocate the cost and profits to each business unit and department/sections for enterprise business
Use PowerApps and Flow to optimize employee productivity as well as simple integration to Office 365
Enable sales and customer service people to have real time information at their work status, inventory, invoice, disposal etc. Therefore, offer better customer service and drive more data driven sales
Real time at-a-glance dashboard that gives a high-level company overview by POWERFUL Power BI
| | | |
| --- | --- | --- |
| Software | Business Central | Finance / SCM |
| Company Size | Small to Mid | Mid to Enterprise |
| Multi-Company | Yes | Yes |
| Multi-Language | 80+ (English, Spanish, Japanese, Chinese, etc.) | 30+ (English, Spanish, Japanese, Chinese, etc.) |
| Employees | 1 – 500+ | 50 – 2,000+ |
| Minimum Number of Users | 1 | 20 |
| Implementation Cost | $10K – $700K | $100K – $1M+ |
| Time Frame | 1-6 months | 6-12+ months |
| Deployment | Cloud or On-premise | Cloud or On-premise |
| Industry | Distribution/Trade, Manufacturing, Professional Services | Distribution, Manufacturing, Retail, Professional Services, Public Sector |
| Depth of Manufacturing Functionality | With the Premium package, additional capability in service management and powerful out-of-the-box manufacturing is available. | Supports approx. 90% of manufacturing functionalities. A great option for discrete, lean and process manufacturing lightly. Other core functions, such as ATP, WMS with mobile solutions, etc. are included. |
| Capabilities and integration with other Dynamics 365 Components | Core capabilities: connects financials, sales, purchase, inventory, projects, service and operations. | Designed to work out-of-the-box with other Dynamics 365 components. Deep integrations with CRM, HR, Talent, Customer Service, Marketing and others. Fully covers traditional back-office processes. |
| Scalability | Recommended for businesses who process a thousand+ transactions. | Recommended for businesses who process hundred-thousands of transactions. |
| Ease of Use | 4.9 out of 5 | 4.5 out of 5 |
Quick Summary: Which Microsoft Dynamics 365 ERP is Right for You?
Dynamics 365 Business Central ERP is perfectly suited for small to medium sized businesses. If your organization is between 50 – 200 employees, then BC is the right option for you. It has the capabilities to process thousands of transactions accurately each day. Chances are, if you meet these two criteria's, then you have outgrown your entry level ERP solution and you should strongly consider upgrading. Business Central has built in capabilities that help unify your business across your finance, operations, supply chain, and project management.

Microsoft Dynamics 365 Finance / Operations is a full enterprise solution, meaning it's perfect for multi-national and multi-domestic companies. It enables you to unify your business operations in one central hub. It also comes with Dynamics 365 for Sales if you opt into the full Dynamics 365 purchase plan. In addition, if you're operating internationally, then Finance and Operations is available in 30 countries with the ability to customize tax rules per region. Its advanced functions make it perfect for organizations that have a deep manufacturing division.
Next Steps: Finding a Partner
Maybe you're in Los Angeles, New York, Chicago, perhaps Dallas or all other nationwide area. You're a business owner and you've decided, "Yes! Let's make Microsoft Dynamics work for my business."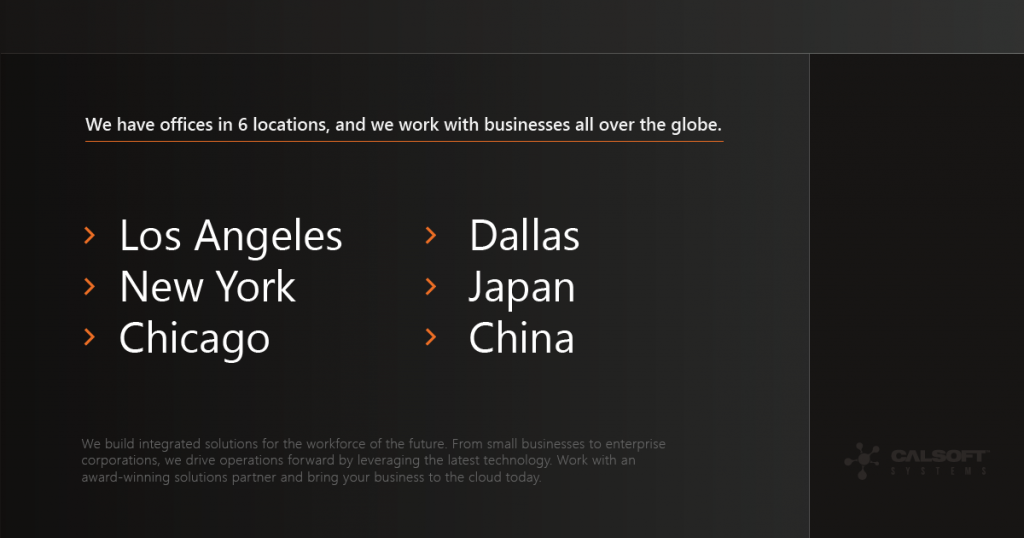 But the next step of the process before you jump into this is, you'll need to find a CSP partner, as Microsoft Dynamics ERP's are not available to purchase directly from Microsoft.
So, your next steps: find a knowledgeable implementation partner that you can rely on.
The most important part of implementing a new system is the technology partner you choose.
We have been working with ERPs, integrations, customization's and everything business software since the 90s, we know every business is unique and has specific needs. Finding out what those needs are and how to address them is how we have managed to keep a 95%+ retention rate. We are a Microsoft Gold Partner that works to deliver solutions that make your business better.
Microsoft Dynamics 365 continues to add new comprehensive capabilities to the Microsoft line-up. With so many new options year over year it can be hard to keep up.
If you're looking for guidance on business applications, please feel free to reach out to us. We'd love to help.