At Calsoft Systems, we support implementation of Microsoft Dynamics 365 for Sales (CRM) to improve customers' businesses.  CRM (Customer Relationship Management) can be used to manage customer information, improve customer satisfaction, and maximize your company's sales and profits. 
While the process of acquiring new customers is crucial for most companies to grow, being able to acquire repeat orders and cross-selling/up-selling with existing customers tend to generate higher profitability through lower costs. Therefore, many companies utilize CRM to effectively manage their relationships with existing customers.
In this article, we will explore Microsoft Dynamics 365 for Sales, which provides the core function of Microsoft Dynamics 365's SFA (Sales Force Automation).
Is SFA (Sales Force Automation) really useful?
While many companies understand the benefits of using a CRM system, there are often cases where voices of hesitation are raised from various departments. Some complaints include voices like "additional burden," "inability to use data," and "too many applications." There are many instances where such mental barriers can prevent a system from being utilized to maximum efficiency after implementation.
As business operations vary from company to company, being able to identify detailed nuances is far more important than just implementing a system. Some challenges include:
The data not accumulating
Although data analysis allows new awareness for strengthening the sales force, it takes time to maintain the data, and the salesperson may end up not entering anything. This creates a vicious cycle where data doesn't get accumulated and customer analysis cannot be performed.
Interference with normal sales activities
Among the complicated tasks that salespeople are expected to conduct every day, spending excessive time in updating data can become a distraction from devoting time for the customers, which should be the primary focus.
The work becoming too personalized
For various reasons like job security, business processes can easily become a black box, relying too much on the experience and intuition of a specific salesperson. This can become a hindrance when trying to standardize a system.
Fully utilizing SFA (Sales Force Automation)
Microsoft Dynamics 365 is an integrated business application.  The sales support function of Dynamics 365 for Sales provides a solution to the problems described above.  Through new insights, a new awareness is raised, and efficient actions can be taken.
Consistent customer service throughout the company
On Dynamics 365, real-time information of customers such as current business status, past purchase history, contract details, and support history can be identified and shared throughout the company. As a result, a consistently high level of customer service can be realized throughout the company.
B) Improve negotiation process and sales
By defining indicators, phases, and conditions in managing business negotiation processes, variance from subjective interpretation gets eliminated from progress reports. Bottlenecks are identified objectively, allowing appropriate coaching for salespeople. This allows accurate predictive management, which ultimately results in improved sales.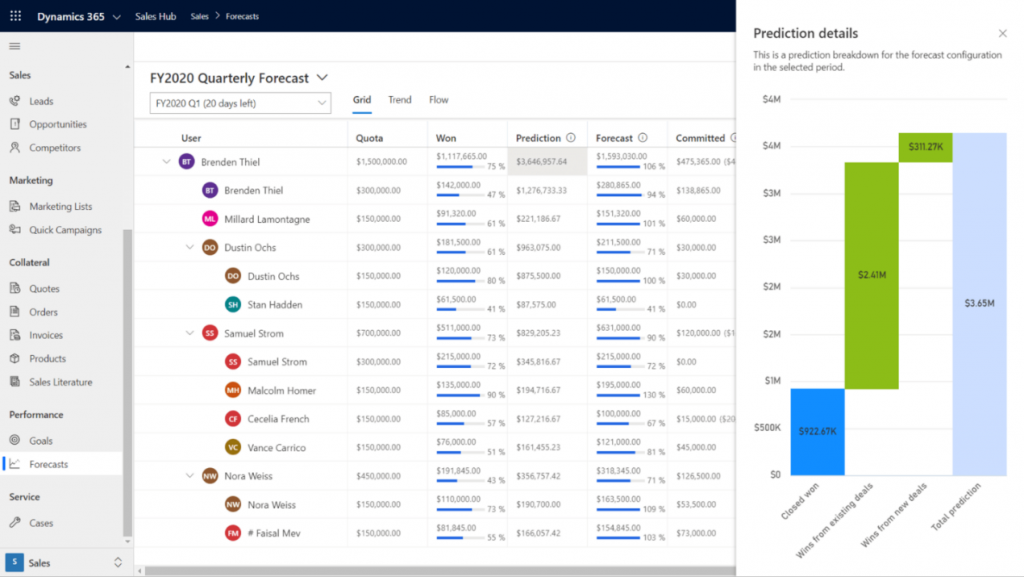 C) Efficient information sharing and productive sales activities
As Outlook can be integrated with Dynamics 365, information such as emails, schedules, tasks, and contacts can be shared in real time, preventing salespeople from being chased by reporting activities. Resources can be allocated to more meaningful sales activities.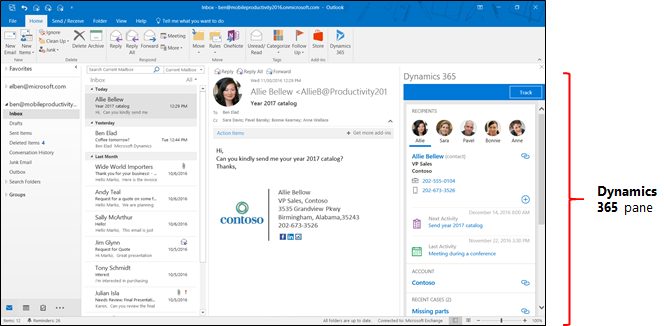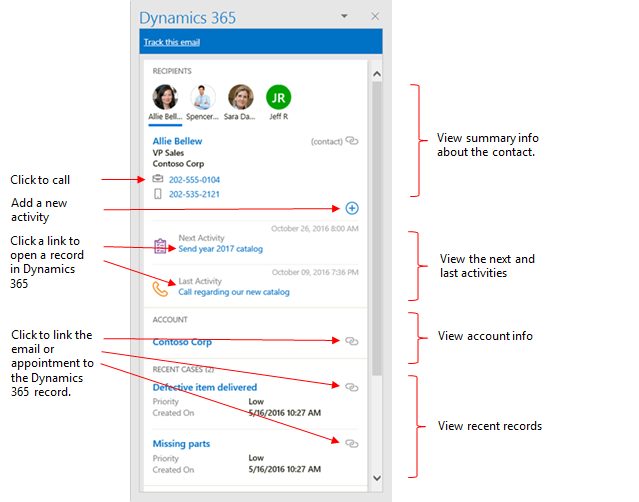 At Calsoft Systems, we provide Dynamics 365 and office products (Outlook, Excel, Word, Teams, etc.) to support business improvements rooted in day-to-day operations. For more information or questions, please contact us at info@calsoft.com.