The benefits of using ERP and CRM software go beyond just increasing your profitability. The ability to manage customers better and streamline all business processes will help you stay ahead of the competition by providing an ultimate solution for any business looking at cutting their time spent on paperwork or manual tasks like invoicing, accounting & payments!
So, what's the difference between ERP and CRM software? Let's take a look:
ERP vs. CRM:
ERP manages all aspects of your business while CRM focuses on managing customer relationships.
ERP is more suitable for businesses that have complex processes while CRM can be used by businesses of all sizes.
ERP is usually deployed in one centralized location while CRM can be deployed on-premises or on the cloud.
ERP is a more expensive solution than CRM since it offers a many more features and functionality.
CRM software is a great tool for managing customer relationships, but it's important to note that it doesn't offer the same comprehensive solution as ERP software. With CRM software, you can track leads, manage opportunities, automate marketing campaigns, and close deals faster. Additionally, CRM provides valuable insights into your customers' buying habits and preferences, so you can better tailor your sales and marketing efforts.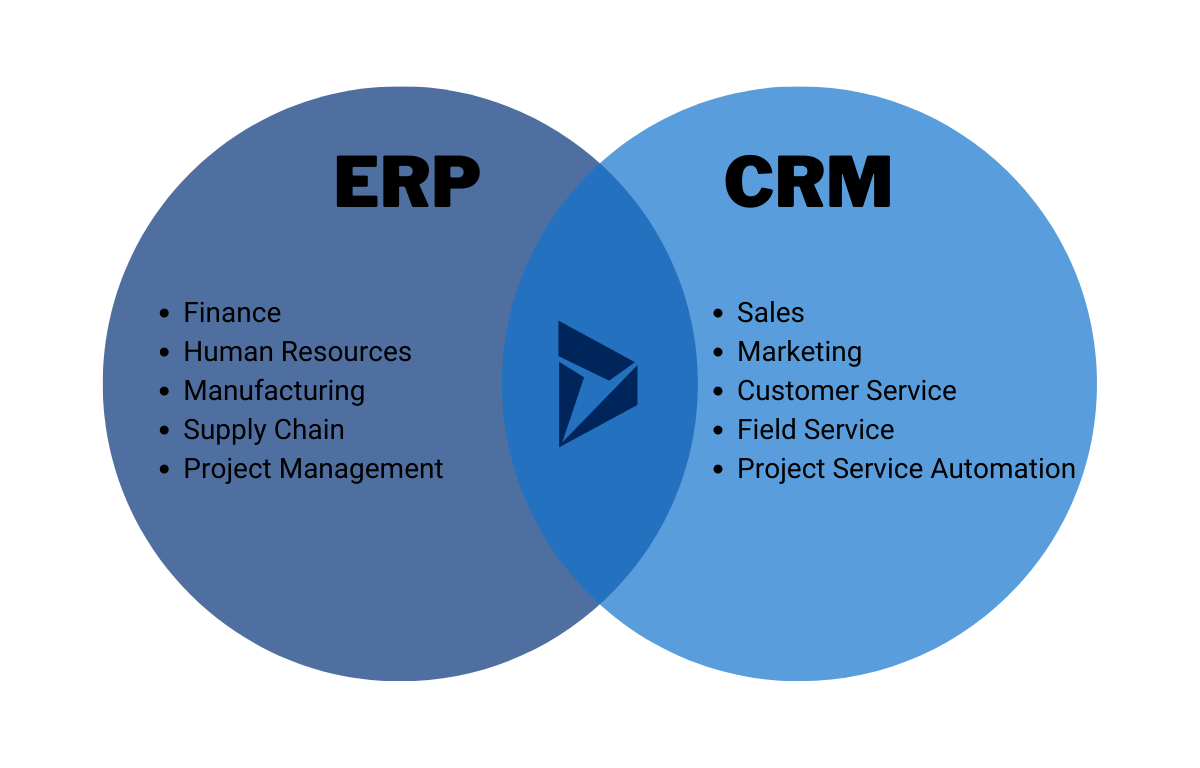 Dynamics 365 ERP has an integrated CRM software called Dynamics 365 Sales.
Top 3 CRM & ERP software
There are many CRM and ERP software programs on the market, but not all of them are created equal. When choosing CRM or ERP software for your business, selecting one that will meet your specific needs is important. To help you make the best decision for your business, here are three of the top CRM and ERP software programs:
Top 3 CRM software:
Salesforce
Dynamics 365 for Sales (for Customer Service)
HubSpot
Top 3 ERP software:
Dynamics 365
SAP
Oracle/Netsuite
Is Dynamics 365 the same as CRM?
In 2016, Microsoft Dynamics CRM was replaced by Microsoft Dynamics 365. While Dynamics 365 includes all functionality previously covered by Dynamics CRM, it is now a more comprehensive combination of CRM and ERP software.
Dynamics 365 for Finance and Operations, Enterprise edition is a robust ERP solution that allows organizations to manage all core business processes in one system. From product planning and development to manufacturing, sales, and customer service, Dynamics 365 for Finance and Operations can help your business run more efficiently and improve decision making.
Microsoft Dynamics 365 Sales is a component for CRM and integrated with Dynamics 365. Sales representatives use it to track their accounts and opportunities, manage their pipeline, and collaborate with colleagues.
Dynamics 365 Sales helps sales people be more productive, sell smarter and win more deals. It also gives organizations visibility into the performance of their sales teams.
If you're looking for top-notch CRM and ERP software, you can't go wrong with Dynamics 365. This software is used by some of the biggest companies in the world, and it offers a comprehensive suite of tools for managing customer relationships. From sales and marketing to customer service and support, Dynamics 365 has everything you need to run your business effectively. And because it's cloud-based, you can access it from anywhere in the world.
Dynamics for Sales Features:
Understanding where leads come from and their success rates
Opportunity and pipeline management
Sales insights
Creating prioritization in presales processes
Creating efficiency, uniformity, and flexibility in your sales processes
Collaborative selling and internal information sharing
Understanding win/loss causalities
Sharing marketing and sales collateral in a completely transparent way
Understanding and pivoting against all of a customer's interactions with your business
Managing inventory based on historical sales data
Sales insights with forecasts and interactive reports with live data
Benefits Of Choosing an ERP With Integrated CRM
If you're running a business, you know that having an effective and efficient customer relationship management (CRM) system is crucial to success. Likewise, an enterprise resource planning (ERP) system is also essential for businesses. But what if you could get the best of both worlds by choosing an ERP system that comes with integrated CRM?
There are many benefits of choosing ERP with integrated CRM, including:
• Improved data accuracy: Having your CRM and ERP systems in one place means that your data will be more accurate, as there's only one source to update and maintain.
• More efficient processes: With integrated CRM and ERP, your business processes will be more streamlined and efficient.
• Better customer service: Having all the information you need about your customers in one place will allow you to provide them with better service.
• Increased sales: By better understanding your customers' needs and wants, you'll be better positioned to close more deals.
Selecting ERP software with CRM integration capabilities unleashes the full potential of digital tools. By centralizing business processes, you can simplify your employees' training and expand the organization's infrastructure without having multiple systems requiring more maintenance time or money.
And because streamlining operations is easier on everyone involved — both now and down the line—ERP with integrated CRM software offers many benefits beyond just making day-to-day work go smoother!
How do I deploy Dynamics 365 Sales?
Open your Dynamics 365 Apps page and select Sales Hub from the list of published apps. If you've already logged into a Dynamics 365 app, select the app name at the upper-left corner of the page to open the Apps page. Contact your administrator to grant you access if you don't see the app.

Dynamics 365 for Sales is a CRM system that can be deployed on-premises, in the cloud, or as a hybrid solution. If you're unsure which option is right for you, our team can help you assess your needs and make a recommendation.
Use the Sales Hub app to access Dynamics 365 Sales features:
https://docs.microsoft.com/en-us/dynamics365/sales/intro-saleshub
The Sales app mentioned in this article is the latest evolution of what was once called Microsoft Dynamics CRM.
Conclusion
In short, ERP software provides a comprehensive solution that helps you manage every aspect of your company, from inventory and manufacturing to finance and accounting. On the other hand, CRM software is customer relationship management software that helps you manage your customer data, sales pipeline, and marketing campaigns.
Microsoft Dynamics 365 combines components of customer relationship management (CRM) and enterprise resource planning (ERP), along with productivity applications and artificial intelligence tools.
If you're looking for a complete business solution, then ERP is the way to go. With Dynamics 365, you have both of the tools under one platform. However, if you're only interested in managing customer relationships, then CRM will be a better option for you.
At the end of the day, the best way to determine which software is right for you is to consult an expert who can assess your specific needs and objectives. With their help, you can make an informed decision to help your business run more smoothly and increase your overall profitability.