Transparency and responsibility in management of an organization have become increasingly more important over the years.
As a result, we find many expatriates in the United States who struggle to handle their daily operations while having to strengthen internal control from a global perspective that is led by the head office overseas.
In this article, we will explore Microsoft Dynamics 365 as an example of how a system can be used to satisfy control requirements and audit standards, while also improving business efficiency.
Challenge 1
Documents such as quotation, contract, and acceptance are managed on paper, or managed by individuals in charge. As a result, there are problems where a trail cannot be found at the time of accounting audit, or it takes a lot of time to collect origin information.
Solution: Drill down of information using a single system
When accounting and sales/purchasing operations are managed with different system, it is not possible to transparently see the origin information (accepting orders, ordering information, etc.) from the accounting system side. It takes a lot of work to match information and identify trails.
On the contrary, when all operations from accounting, sales, and purchasing are managed within a single system like Dynamics 365, it is possible to trace (drill down) from journal information to origin information. Accounting user can easily verify order details such as purchasing and who entered it. In the case of manufacturing business, one can easily trace the product lot number, expiration date, status of work in progress (WIP), and cost information.
Furthermore, the Drill-down feature in Dynamics 365 allows you to attach documents such as signed quote, contract, and receipt to each order. This can reduce work in terms of collecting and checking trails during an audit.
In addition, it is also possible to strengthen the control with restrictions such as not being able to complete the order without attachment of the contract, or not being able to make sales without an inspection document.
Challenge 2
There is no standardized procedure for internal application and approval. Or alternatively, the rules for approval may exist, but is done through email or paper, which makes management of its history complicated. Particularly in the United States, there are cases where compliance with local employees is not thoroughly set, resulting in purchase of equipment which their usage is questionable.
Solution: Utilizing the workflow function of the ERP
Dynamics 365 has workflow functions that support a wide variety of tasks.
By incorporating a workflow, it is possible to set rules so that a quote for a certain amount or more cannot be presented to the customer without the approval of the sales manager (the quote cannot be printed), or a purchase order cannot be placed without the approval of the purchasing department manager.
Naturally, the history on approval and rejection are recorded to the system, allowing details to be searched easily, and checks to be done easily on whether they comply with the prescribed rules or not during an audit.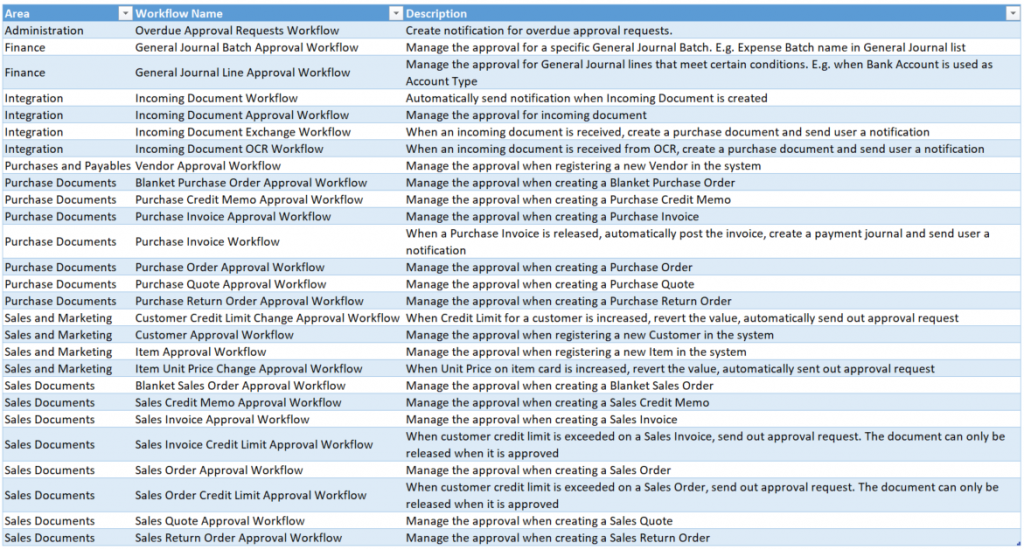 Where standardized operations and guidelines are thoroughly carried out within the head office, there are some cases where overseas branches struggle to enforce the same standards to local affiliates who have different values and corporate culture. Implementing Dynamics 365 can be a great asset in such case, as it corresponds to your operations, while strengthening internal control and easing work involved with audit.