Digital transformation is the process of integrating digital technologies into all operational areas in a business. It usually includes the shift from traditional operating methods to a cloud platform. It enables businesses to modernize legacy processes, accelerate efficient workflows, strengthen security, and increase profitability.
Digital transformation is also synonymous with digitization and digitalization, which are associated with the process of going from analog to digital form.
Why do we need digital transformation?
Digital transformation changes the way an organization operates. The transformation of systems, processes, workflow, and culture affects all levels of an organization and brings together the company as a whole. By taking advantage of automation and advanced processing, companies can work more efficiently and accurately. Moving data to a cloud environment lowers operational costs. It frees up hardware and software costs while freeing up team members to work on other projects.
Examples of digital transformation could be:
Implementing tools like mobile apps or websites
Machine learning algorithms
Replacing legacy systems for operations
Note that there isn't a specific strategy when you want to go digital. It's an ongoing process that uses technology to improve business offerings, operations, and outcomes.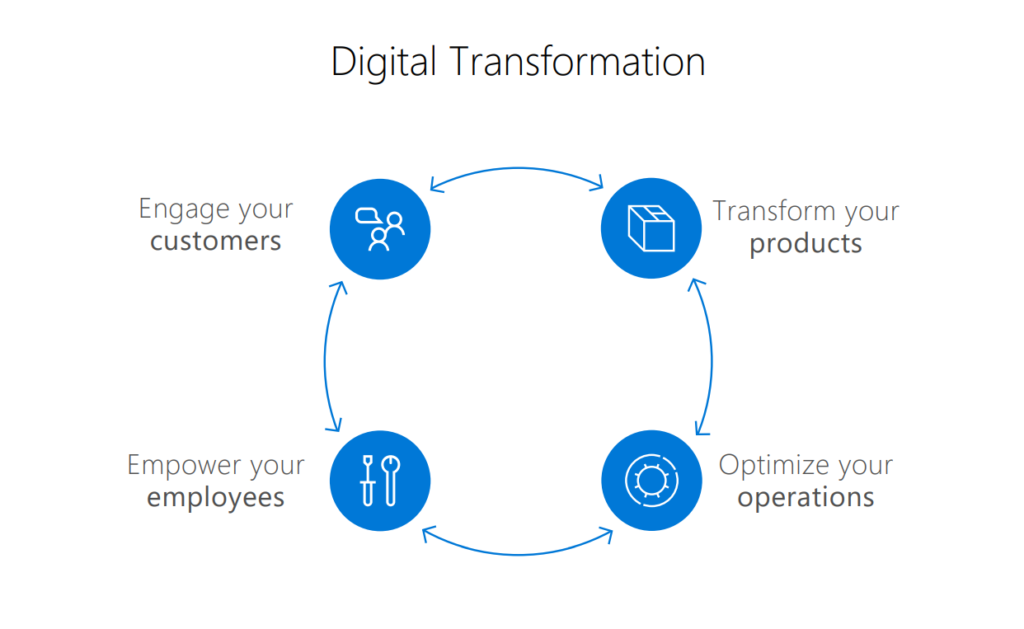 5 steps for planning and executing a digital transformation
There are a few steps to follow for a successful digital transformation for your business.
1.Determine what digital transformation means to your company
There is no universal definition of what digital transformation is. Each business has its own needs and to successfully transform your business, you'll need to take a look at your business's challenges, industry, competition, customers, ecosystem, and other variables that influence your business.
2. Establish how you will go digital
There is a wide range of options to go digital, ranging from moving to the cloud, changing the IT structure, using automation, adding tech features to the website, etc.
3. Create a roadmap
You will need a complete plan and time period on how you're transforming the business.
4. Prepare the entire business
Provide employees with transparency, a clear structure, and plan to give them sufficient training to prepare them for the digital transformation.
5. Begin the transformation
Establish an end vision and start executing your plan! Companies that have had a successful digital transformation are the ones who had stayed committed throughout.
Digital Transformation with Dynamics 365
Cloud-based ERPs like Dynamics 365 is at the heart of any digital transformation.
But exactly what is Dynamics 365?
A short explanation would be that it is a cloud-based applications platform that combines ERP, CRM, and other productivity applications to integrate your data, business logic, and processes.
6 reasons why you should choose Dynamics 365 to drive digital transformation
Work flexibility: With its cloud-based apps, users can work remotely from anywhere.
Centralized data: All data is kept and shared in one single solution.
Customer engagement: Automated marketing campaigns via customer journeys in Dynamics 365 Marketing.
Scalable and cost-effective: With monthly subscriptions and hosting on the Azure cloud, companies can scale up or down based on their needs.
Integration with Microsoft Teams: Provide productivity and communication with the Teams app without leaving the ERP.
AI: Dynamics 365 uses AI to analyze and anticipate the needs of the company and customer. AI is the future of business insights and processes, and companies who leverage the power of AI will be at a distinct advantage.
Conclusion
Digital transformation improves how companies operate. From better data collection to an improved customer experience, businesses are seeing both cost savings and increased profitability.
A successful transformation cannot happen without unified data, optimized processes, and remote collaboration tools.
Whether you're migrating an on-premise legacy system to the cloud or need help taking business processes to the next level – Calsoft can help.
More to read:
Accelerate Digital Transformation with Microsoft Dynamics 365
This Is Why Your Company Need An ERP Solution Today