When supporting companies after ERP implementation is complete, we often notice that the efficiency of operation still leaves a space for further improvement.
By implementing a new ERP, the data that used to be divided between multiple departments get consolidated, allowing for efficient access and consistency throughout the company. However, this also means that the information that is entered into the system needs to be managed more accurately over a wider range, resulting in some companies feeling overwhelmed by the increase of information that must be input.
Our Case Study of a beverage manufacturer
This company used Dynamics GP as their core system, managing consolidated sales and purchasing data on it.
However, their operation still required manual order entries from Excel sheet provided by their major customers on daily basis. Although accurate data entry is an important work, the task itself is relatively unsophisticated, despite taking 2 hours a day. From what we observe, this type of burden is rather commonplace regardless of industry.
In the recent years, efforts to automate relatively simple routine tasks such as this have become popular. One such solution is work automation using the RPA (Robotic Process Automation) tool. Microsoft, a giant in office and business software, has also focused on this field, announcing that it will release Power Automate equipped with RPA function.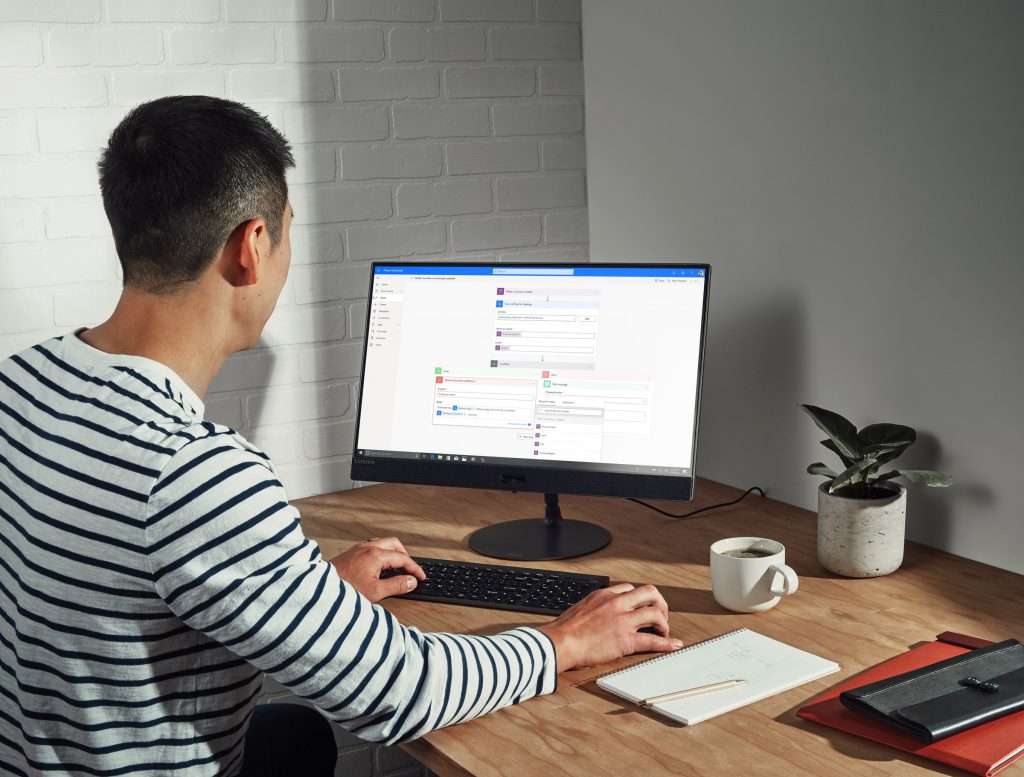 RPA is a software robot that provides high-speed automation of simple tasks such as data entry and transcription work. As it leads to improved efficiency of simple work, increasing productivity, while preventing human error, it is expected to be used all over the world.
In the case of this beverage manufacturer, the RPA robot now logs in to the ERP, activates the sales module, inputs data and processes many sales data at high speed.
The concrete work content of RPA
Retrieve order sheet (Excel) of each customer from the specified folder.
Read Excel data, copy required fields (customer code, part number code, quantity, shipping destination, etc.), and convert to standard template (CSV) for importing order.
Copy the necessary information from the import template (CSV) and start the Dynamics ERP.
Login to Dynamics ERP.
Select Sales Management Module.
Enter information copied on the order entry screen to the specified field.
Repeat until all order data are entered.
After finishing the work, launch email notifying completion to the person in charge.
As a result, the data input work that used to take 2 hours each day has been replaced by the RPA, allowing human resources to be allocated to work of higher value such as sales analysis and promotion planning. They have saved $10k annually and made 100% accuracy of the operation.
The advantage of RPA goes beyond the automation of data entry. It can also obtain data from the ERP and create a standard Excel report, then send to the required personnel via email. The tasks handled by the RPA can cross over multiple applications.
Business automation using RPA is quickly becoming a standard for utilizing the ERP. Although defining complex business processes is still not a trivial task at this time, there will likely be more cases where RPA works on behalf of human resources in the future.
At Calsoft Systems, we actively promote solutions that combine ERP products like Dynamics 365 (Business Central and Finance / Operation) with RPA products such as UiPath.  We've been steadily increasing the number of implementation cases with our customers in the United States.
If you happen to have implemented an ERP lately, but still feel there are inefficiencies, or the number of manual operational work haven't decreased, please contact us and we'd be happy to help.