Industry 4.0 is the fourth industrial revolution enabling manufacturing companies to leverage the technology to operate efficiently and flexibly along with rapid demand shifts. Industry 4.0 uses advanced technologies such as big data, robotics, and 3D printing. These technologies help factories to run more smoothly and produce higher quality products. As a result of Industry 4.0, manufacturers can stay competitive in the global market.
Microsoft has always been a technology leader, and its ERP platform is no exception. In fact, Microsoft technologies are playing an important role in this paradigm shift. As businesses move toward more digital and automated workflows, they can rely on Microsoft technologies to help them get there.
Learn more about how Microsoft is powering the future of industry in this blog post.
Read more: What is Industry 4.0?
Calsoft Industry 4.0 Framework for Manufacturing
Horizontal and vertical integration are key components of Industry 4.0 for manufacturing companies. Combining the two allows for a greater degree of customization and flexibility in production, as well as increased transparency and traceability throughout the supply chain.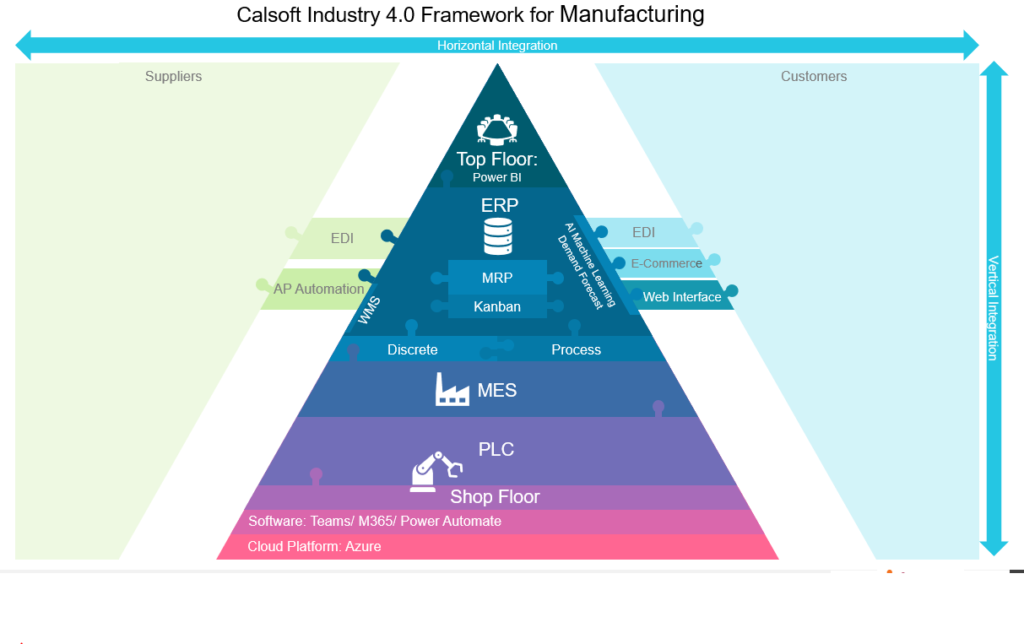 Horizontal integration
Horizontal integration by EDI
Microsoft understands that the horizontal integration of companies, suppliers, and customers happens with Industry 4.0. EDI VAN (Value-added network) is a standard method for a company with MS ERP to communicate with its suppliers and customers.
4 EDI VANs
These are the four major EDI VANs around the ERP community, and Microsoft ERPs suite with the EDI VANs well.
Calsoft experience with EDI VANs
Calsoft has in-depth experience integrating these EDI VANs with Microsoft ERPs, such as AX, D365 FO, and D365 BC. Our customers using Microsoft ERPs and EDI VANs range from metal trading companies, automotive part companies, and food/beverage production companies.
Integration with Dynamics
These EDI VAN providers supply various add-ons for Microsoft ERPs. The below list is for your reference.

SPS Commerce provides D365 connectors with its EDI.
Horizontal integration by non-EDI
Microsoft provides various gateways and highways for its customers to leverage the concept of Industry 4.0 horizontal integration with its Azure services and ERPs' external interfaces.
Any company operating its core business functions with Microsoft ERPs must go beyond its boundaries to connect with external parties. The company must confirm that its data exchange with its customers and vendors is correct and secure.
Non-EDI vendors
The company ERPs stay consistent with vendors and customer data using interfaces. The most common method to connect with vendors and customers is by EDI VANs, as mentioned above. However, as a company grows, the company will face many vendors that do not work with EDI integration. Your company needs to stay connected with non-EDI vendors with purchase orders, invoices, consignment inventory information, and RFQs. And the good news is that Microsoft Dynamics provides a way to do so.
Dynamics Vendor Collaboration module for non-EDI vendors
Dynamics 365 provides the Vendor Collaboration module, and this module is the common ground for your company and external vendors. Thanks to the cloud nature of Dynamics 365, external vendor users can access your company's ERP. Your administrator configures general settings such as security roles for the vendor users. You can set various configurations for each vendor. For example, you may share some price information for one vendor but not for other vendors.
How it works
Once you provide access to your external vendors to issue purchase orders, your purchase department can create, approve, and send the PO to the vendor. Then the vendor users can see the PO on the Dynamics vendor collaboration interface PO review page. The vendor can now accept, change, communicate to change or reject the purchase order. You can also send the PO by Dynamics integrated email.
This module is an example and high–level summary of how the Cloud ERP, Dynamics 365, can horizontally connect with non-EDI vendors by leveraging the benefits of the cloud ERP.
E/C connectors
So far, we have seen the EDI and non-EDI integration with vendors and customers. Now E/C channel is a must-to-have channel for many companies using Microsoft ERPs, and Dynamics provides various connections with popular E/C integrators.
Please reference Calsoft's blog post on eCommerce integrations.
Vertical integration
ERP, MES, and PLC
A manufacturing company's vertical integration involves three key aspects, and they are three floors or levels of the Industry 4.0 pyramid. The central part is, again, an ERP, and ERP serves as a central data hub for any manufacturing shop floor. The next floor is a manufacturing execution system (MES), and MES often communicates directly with shopfloor machines' programmable logic control (PLC).
Visualization of production orders
Vertical integration aims to achieve flexible control of production and logistics processes. For example, ERP generates its production plan and orders from the customer forecast and the floor inventory level. MES helps visualize the production order information for workers on the floor so they can execute the order. The machines on the floor execute the actual production, and PLC converts the production information in a way the devices can process the order.
Azure IoT Edge
Microsoft provides various Azure vertical integration tools through its Azure platform services, and Microsoft Azure IoT Edge plays a central role in this arena.
Azure IoT Edge modules are containers that run various Azure services, third-party services, or custom programs. It is a one-stop shop for Industry 4.0 vertical integration by Microsoft using its Azure technology.
Azure IoT Edge's Nested Edge
Azure IoT Edge's new feature is Nested Edge. Nested Edge allows deploying IoT Edge nodes following the vertical integration aspect of Industry 4.0, and IoT Edge nodes are connecting points in the Azure network.
Nested Edge deploys the nodes across networks organized in a hierarchical layer, where only the top layer has connectivity to the cloud, and the lower layers communicate with adjacent layers. This structure aligns with the vertical integration of Industry 4.0.
ISA-95 standard
ISA-95 standard recommends that companies use layered networks to isolate each data; this makes aggregation of data from each layer more challenging.
For this, Azure IoT Edge plays a gating role in accessing the data in each layer. With Nested Edge, a company can deploy its nodes in multiple layers while meeting the ISA-95 standards.

Conclusion
The fourth industrial revolution is well underway, and with it comes new opportunities for businesses of all sizes. Industry 4.0, is characterized by a horizontal and vertical integration of traditionally separate manufacturing processes. By combining the two, businesses can increase efficiency and create a more seamless flow of products and services. As a result, customers will be able to receive their orders faster and with fewer errors. By understanding the advantages and disadvantages of both horizontal and vertical integration, you can make a more informed decision about which path is best for your company.