Dynamics GP and Dynamics 365 Business Central are both full featured Enterprise Resource Planning (ERP) solutions for small and mid-market companies. The two solutions share largely similar features but also have some key differences such as licensing, hosting, upgrades, and functionality.
In this blog post, we will be comparing the two platforms, but first, let's find out what each of these ERP solutions offer.
What is Dynamics GP?
Microsoft Dynamics GP (formerly Great Plains) is a complete solution for managing and integrating finances, inventory management, supply chain, manufacturing, distribution, project accounting, field service, customer relationship management, and human resources.
Case study: Calbee North America – Migrating to Dynamics 365 Business Central from Dynamics GP
Is Microsoft Dynamics GP cloud-based?
In short, no. While the latest version of Dynamics GP was designed to operate in the Microsoft Azure Cloud as a hosted system, it was never designed to be a fully cloud-based solution. In order to connect to this environment, users will still need to use applications like Remote Access to work with GP.
How many companies use Dynamics GP?
With nearly 30 years of experience, over 50,000 companies using it, and an ecosystem of thousands of add-on applications, Dynamics GP remains one of the statistical leaders in mid-market accounting software.
Microsoft has announced that it will be discontinuing mainstream support for Dynamics GP in 2023. Dynamics GP is considered to be a giant in the industry and has delivered a reliable ERP and accounting solution for decades. Although Dynamics GP is a powerful and proven platform for managing business operations, Microsoft's vision of the future is a modern cloud-based one.
Is Dynamics GP being discontinued?
GP is under LCS (life cycle policy), which means that Microsoft will continue support, but requires companies to upgrade GP at least once a year out of the annual three update times after version GP2018R2.
What is Dynamics 365 Business Central?
Dynamics 365 Business Central (BC) is the latest global cloud ERP solution from Microsoft. Built from the framework of Dynamics Navision (NAV), it is the most implemented software among all Microsoft Dynamics ERP and major ERP solutions and continues to steadily increase its number of implementations for small to mid-sized businesses. Dynamics 365 BC is cloud-based, subscription-based, and can even be implemented in an on-premise or hybrid environment. With a modern interface, simplified billing structure, and full cloud flexibility, it's no coincidence that Microsoft is pushing Dynamics 365 BC as the future of ERP for the small to midsize market.
How many companies use Dynamics 365 Business Central?
Released in 2018, Dynamics 365 Business Central already has over 15,000 companies operating on its platform. That number does not include the number of Dynamics NAV customers with around 200,000 users. As Dynamics NAV is another tried-and-true flagship ERP solution, it's no wonder that Dynamics 365 Business Central has been so successful out of the gate.
What is the difference between Dynamics GP and D365 Business Central?
Microsoft Dynamics 365 Business Central and Dynamics GP are two similar ERP solutions with overlapping features and functions. While these solutions share a great deal of functionality, there are several important key differences that will determine what system is the best fit for your business.
One main difference between Dynamics GP and Dynamics 365 BC is the design of each product. Dynamics GP is a legacy product originally developed for on-premise use, but has since been updated to support some cloud functionality. Dynamics 365 Business Central is a solution built specifically for the cloud. Additionally, Dynamics 365 BC is built to manage multiple entities, dimensions , advanced roles/responsibility center and multi-languages include double bytes characters, while Dynamics GP often requires customization or third-party add-ons for this functionality sometimes. While Dynamics 365 BC is not replacing Dynamics GP, it is built for a similar target market but is purely cloud solution.
Dynamics GP and Dynamics 365 BC comparison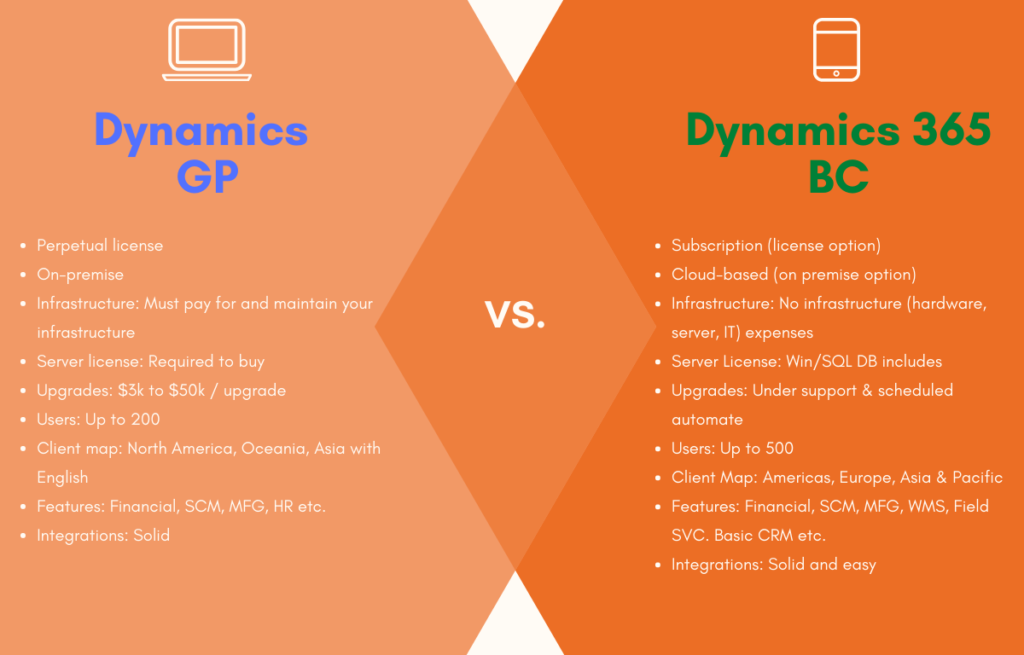 Aside from the functional differences between the two platforms, user interface can also be used as a point of comparison. As a legacy platform, Dynamics GP simply cannot compete with Dynamics 365 Business Central's modern interface.
Let's compare the two platform's dashboard pages:
Dynamics GP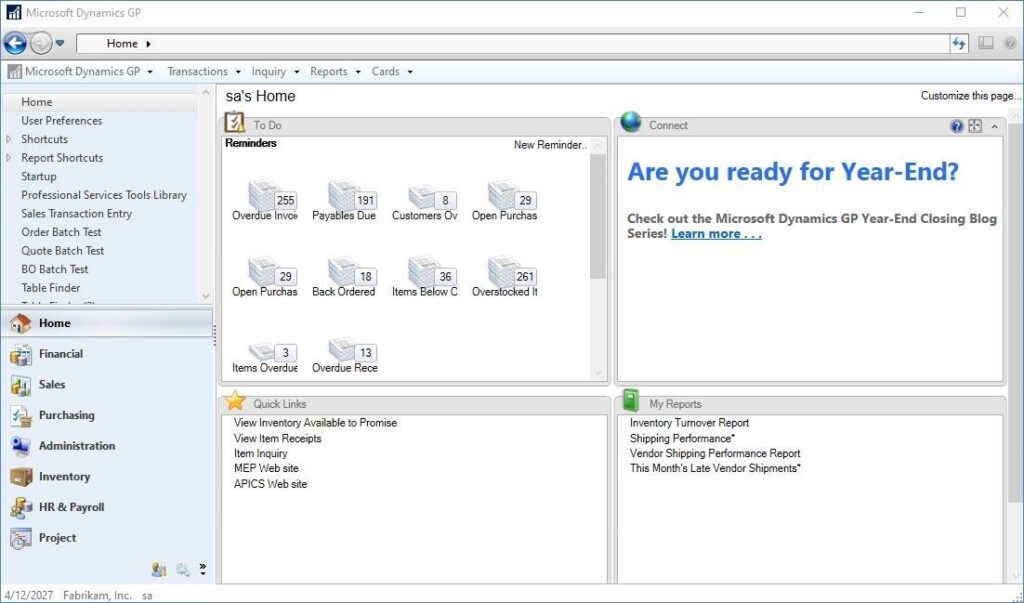 Dynamics 365 Business Central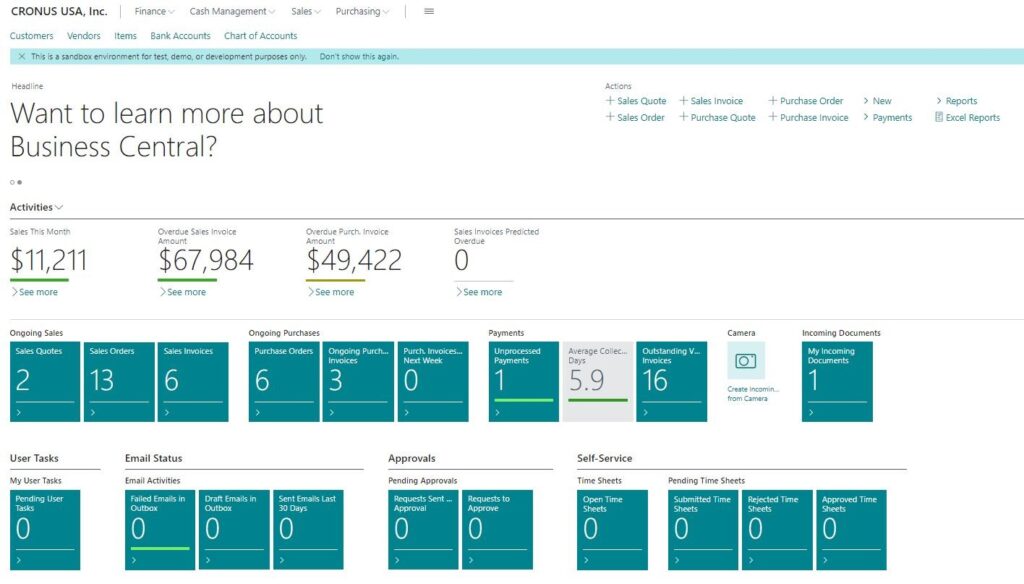 As you can see, Dynamics 365 Business Central takes a much more modern approach to an ERP interface. On the dashboard page, commonly known as the role center in Business Central, users are presented with straightforward KPI tiles and action items in order to have a clear picture of current business performance.
Additionally, Dynamics 365 Business Central has a much stronger emphasis on personalization when compared to Dynamics GP. On nearly every page within Business Central, users have the ability to hide, add, and move data to create an interface that optimizes relevant information on the user level.
Now, let's dive a level deeper and take a look at the item masters of each system:
Dynamics GP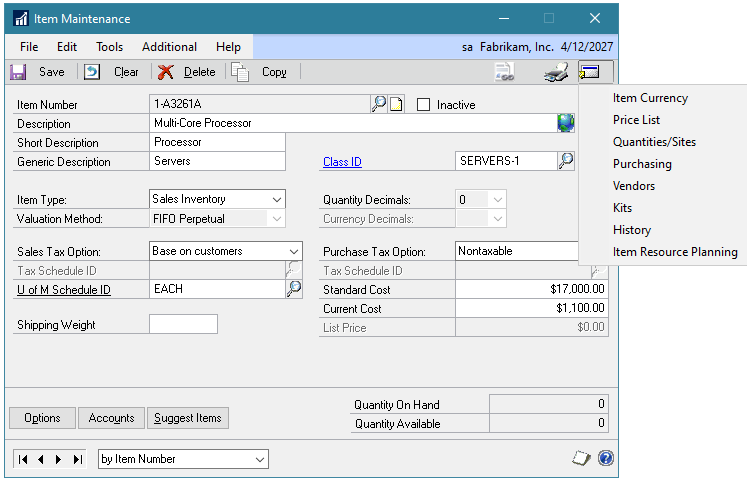 Dynamics 365 Business Central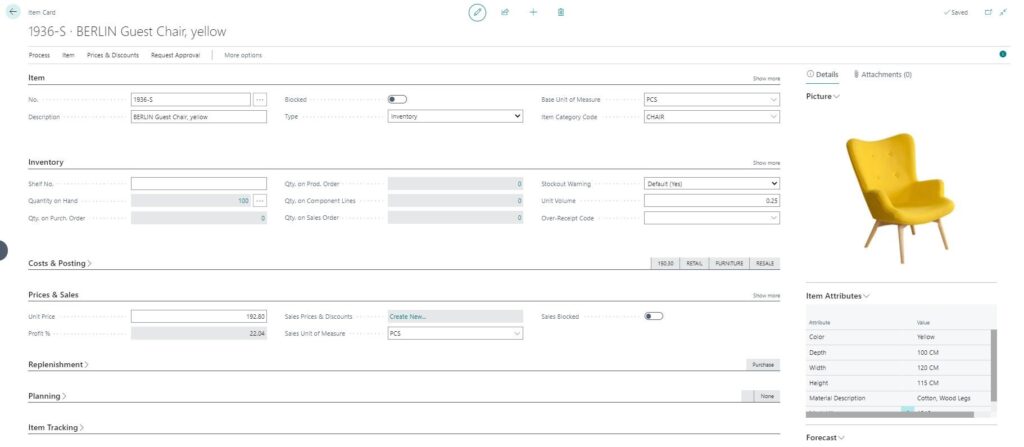 Once again, Dynamics 365 Business Central outperforms Dynamics GP in terms of user interface. Presenting a modern snapshot into specific items, Business Central gives its users a clear method of viewing live inventory levels and other key item attributes. Aside from being able to keep track of current inventory, Business Central also allows users to predict future inventory needs in order to make more informed inventory decisions based on current and future demand.
Read more: Microsoft Comparison Guide: Dynamics 365 Finance and Operation, Dynamics 365 BC, Dynamics GP
Read more: How to Migrate from Dynamics GP to Dynamics 365 Business Central
Transition from Dynamics GP to Dynamics 365 BC
While Dynamics GP has been one of the bestselling ERPs for decades, technology evolves and there are many Dynamics GP users who are wondering if they should transition to Microsoft Dynamics 365 Business Central instead.
Here are just a few of the reasons that customers are considering upgrading to Dynamics 365 Business Central:
A cloud hosted system such as Dynamics 365 BC effectively eliminates the cost of managing physical hardware.
Dynamics 365 Business Central grows and shrinks to fit your business automatically.
A cloud environment allows users to easily stay on the latest version of the software as the update process is much more straightforward when compared to an on-premise installation.
Easily transition or maintain remote work by accessing your ERP from almost any device.
Mitigate potential security risks and meet compliances while leveraging Microsoft's world class security standards.
Take advantage of a polished user interface that looks and feels just like other familiar Microsoft apps while improving workflows.
Utilize modern integration with many Microsoft applications such as Word, Outlook, Teams, Excel, and others that your business is likely already using.
If your business is currently considering migrating from Dynamics GP to Dynamics 365 Business Central, look no further. Calsoft has developed a migration package, D365 CloudShift, that was created in order to shift businesses onto a modern cloud-based ERP system. Calsoft is able to leverage an in-house developed migration template in order to migrate your Dynamics GP master data, GL and other historical transaction data onto Dynamics 365 Business Central and streamline the migration process.
To learn more about how this package can assist with your migration to the cloud, contact us. Calsoft is a 2020 Microsoft US partner of the year winner for Dynamics 365 BC and certified Microsoft Gold Partner that has specialized in ERP for over two decades. We are on standby, ready to help you find the right ERP solution for your business.