ERP systems are necessary for businesses and industries of all sizes and niches. Local shops and cafes, healthcare and big manufacturing companies use ERP to keep track of business resources and facilitate operations that otherwise would be done manually.
These sectors benefit tremendously by using ERP solutions to optimize resources, streamline processes and drive greater efficiencies throughout their operations. With an effective Enterprise Resource Planning system in place businesses can reduce costs while simultaneously building upon customer loyalty – ultimately giving them the edge they need in today's dynamic marketplace!
ERP software are fully customizable and can be used across a variety of departments, including finance, operations, retail, and sales.
Benefits of ERP systems
By implementing an ERP system, businesses can focus on the more important aspects of their operations. Automated processes and real-time data eliminate menial tasks and manual investigations to simplify complexity while providing greater reliability for business information. These advanced tools also offer exceptional forecasting capabilities that allow companies to accurately streamline budgets as well as identify unneeded investments in production.
An ERP system streamlines cost reduction and financial management, freeing up time for staff. This single platform with consolidated information provides C-suite executives the visibility they need to quickly identify any adjustments needed in response to market changes – giving businesses tighter control over operations without worrying about data entry errors or potential risks.
Here are some benefits of ERP systems:
Improved data security with constant backups
Accurate real-time data to make better business decisions
Give employees more tools to increase revenue and hit sales goals
Enhanced business reporting with a single unified system
Cloud based mobile accessibility to use from anywhere
Read more: Dynamics 365 Benefits: 5 Advantages of Having ERP from Microsoft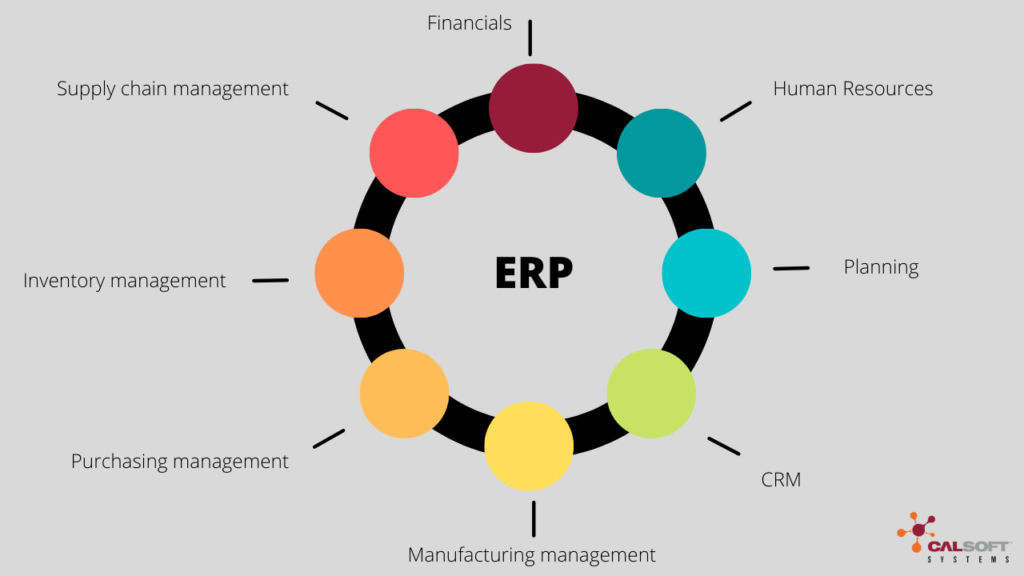 Industries that benefit most from ERP
ERP is a transformative technology for businesses of all sizes and across all industries. Any business or organization in need of a management system in one place will benefit from ERP software. ERP systems can be incorporated into almost any industry – this includes mid-market and small businesses.
Some of the sectors that have seen some of the greatest advantages through utilizing an ERP system are construction, banking, manufacturing, retail, consumer goods and distribution companies. Across these key sectors especially, ERP has enabled businesses to reduce costs while improving internal process efficiency and enhancing customer service outcomes. With the wide range of tools offered by an ERP system, industries can craft effective methods to monitor assets, improve inventory management and update top operational decision makers in real time with accessible data. From large global firms to local SMBs, ERP systems have revolutionized their individual success in industry specific avenues such as lean operations or maximized supply chain value networks.
Here are some examples of industries that use ERPs:
Construction
Industrial Services
Healthcare
Hospitality
Read more: Learn more about ERP for specific Industries
ERP for Manufacturing
ERP software are commonly used and increasingly beneficial to the manufacturing sector in order to manage the complex manufacturing process. A cloud-based ERP can help track raw materials, manage inventory levels, and schedule production. Additionally, ERP systems can be used to monitor quality control and track finished products.
Finance, purchasing, production, and operations departments can communicate with ease. Sales teams can communicate directly with warehouse teams to ensure accurate real-time inventory and realistic client expectations. ERP for manufacturing speeds up these processes and bring value to each of the department it serves. The software also allows companies to identify the most and least marketable products so that they can manage purchasing more efficiently as well as bringing innovations to the market.
ERP for Retail
ERP systems are also used in the retail industry in order to manage inventory levels, track customer orders, and process payments. Additionally, ERP systems can help retailers to better understand their customers' buying habits and preferences.
By being able to view warehouse levels in real-time, your team can ensure accurate stock levels. Features such as sales, payments, inventory management, tracking and marketing are all overseen by ERP systems. Because retail brands focus on selling directly to consumers, ERP for retail need to include consumer-oriented functionality in addition to standard ERP features.
ERP for Professional Services
When it comes to the professional service industry, ERP systems are a necessity to modernize the operational structure. From keeping a record of investments to capturing customers and employee data.
ERP for Automotive Industry
Since the automotive industry requires both supply and manufacturing, ERP software can be utilized for the integration of supply chain activities, monitoring projects, and the execution of designs while saving costs with an improved and accurate system. The production line in the automotive industry is extremely complex, each vehicle is made of hundreds of individual parts, with different roles and a variety of vehicle types.
This makes an ERP extremely valuable for the automotive industry. It's also most often an industry with a global reach, meaning that an ERP for automotive industry would have to keep data of complex partnership chains and activities. ERP systems are able to centralize information and ensure streamlining of operations.
ERP for Food and Beverage
Food and beverage manufacturers also need an ERP system to support the creation of a quality and uniform product that meet industry requirements. Food and beverage manufactures need a system to support alcoholic beverage production, meat and seafood processing, fresh produce handling, confectionery production and more.
ERP for Healthcare
ERP systems are increasingly being used in the healthcare industry in order to manage patient records, schedule appointments, and track medical supplies. Additionally, ERP systems can help healthcare organizations to better coordinate care between different departments and facilities.
ERP for Education
ERP for Education is an invaluable tool to help improve efficiency and accuracy in administrative tasks. It offers schools and institutes access to a range of effective tools that improve institutional operations, including streamlining financial management processes and confidently collecting and utilizing data. With tools like accurate forecasting, CRM mobile apps, automation, reporting and analytics, ERP software transforms educational institutions with up-to-date information about their academic system and the most updated technology streams available. It provides comprehensive solutions for better account management and payment processing within colleges, universities, labs, daycare centers and more.
Industry specific ERP examples
Which companies use ERP? Any business in any industry can use an ERP.
ERP software comes in various products with features that aim to different market segments and business sizes. There are industry specific ERPs that are tailored to the requirements of each unique industry and strive to maximize efficiency by streamlining workflows and simplifying regulatory compliance.
It can be difficult to choose the right ERP on your own. Wrangling the configuration options, fair price assessments, security considerations, and evaluating what is right for your company's present and future goals require specialized knowledge.
An ERP consultant with expertise in this field can be a valuable asset, providing recommendations that will help you find the right ERP for your business.
Calsoft is granted the prestigious title of Microsoft Gold Partner. In accordance with that, we have mastery over Dynamics 365 and its various applications. Through it, we have been able to help many industries reap the benefits of this powerful management system by providing implementation services structured to their needs and goals. Our team consists of ERP experts versed in the complexities involved in leveraging these solutions in order to raise key performance indicators and encourage excellence among workers at many different organizations. We are proud to explore the ever-evolving possibilities alongside our clients when it comes to modernizing and optimizing tomorrow's businesses for success.
The Dynamics 365 suite currently offers:
Microsoft Dynamics 365 for Finance and Operations Enterprise Edition (formerly Microsoft Dynamics AX) – ERP and CRM software-as-a-service product meant for mid-sized and large enterprises. Integrating both Dynamics AX and Dynamics CRM features, consisting of the following modules: for Financials and Operations, for Sales Enterprise, for Marketing, for Customer Service, for Field Service, for Project Service Automation. Easily connected with Office 365 and PowerBI.
Microsoft Dynamics 365 Business Central (formerly Microsoft Dynamics NAV) – ERP and CRM software-as-a-service product meant for small and mid-sized businesses. Integrating both Dynamics NAV and Dynamics CRM features, consisting of the following modules: for Financials and Operations, for Sales Professionals, for Marketing. Easily connected with Office 365 and PowerBI.
Microsoft Dynamics 365 Customer Service (formerly Microsoft CRM)
Below we are going to show you three examples of companies in different industries that Calsoft has helped to implement an ERP system.
ERP for Food and Beverage Industry
Company name: Wakou
Industry: Food manufacturer
ERP solution: Microsoft Dynamics NAV
Needs: Accounting, Supply Chain Management, Production Control, Integration with other systems
ERP for Distribution Industry
Company name: AGCI
Industry: Chemical Industry
ERP solution: Microsoft Dynamics 365 Business Central
Needs: Operation efficiency, risk management, preparation for future
ERP for Retail Industry
Company name: Sanrio
Industry: Retail Industry
ERP solution: Microsoft Dynamics 365 Finance and Operations
Needs: Finance, inventory management, order processing, shipping, integration with ecommerce, integration 3rd party warehouse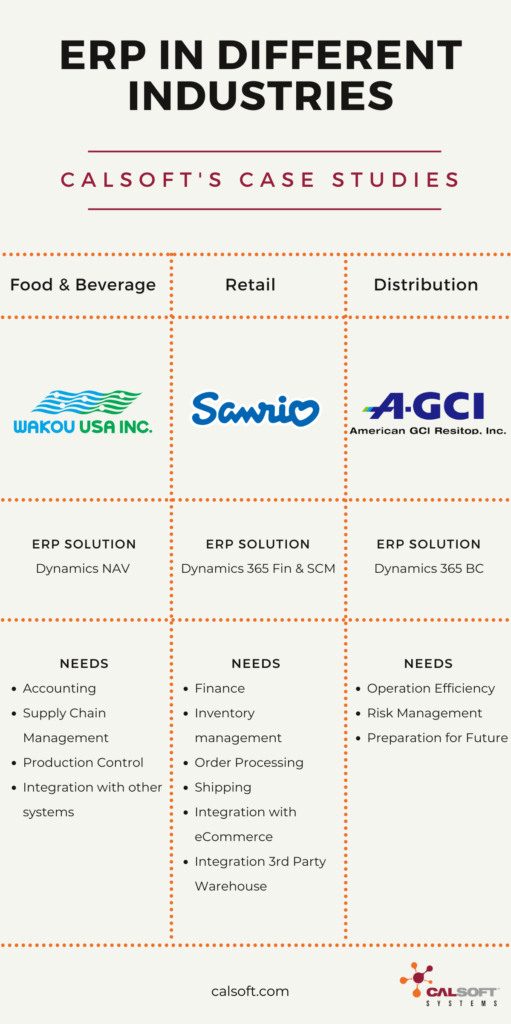 Read more: Industry Case Studies
Conclusion
There is no denying that ERP software has become a huge part of every industry, making operational executions easier and faster over time. But each industry has its own requirements and challenges when it comes to ERP customization. If you find the right ERP system for your industry and business, it could be a big win for your organization.