The desire to keep the cost as low as possible is a common voice often heard from companies considering to implement an ERP.  However, the implementation cost of an ERP can differ largely from system to system, and the market price is often not very clear.  So in many cases, it can be difficult for a company to determine if the cost makes sense or not.  In this article, we will explain the procedures on how a company can get the best price for ERP implementation after conducting a preliminary survey on matters such as market price. If you have yet to do a preliminary survey, please read How Much Does An ERP System Cost? first.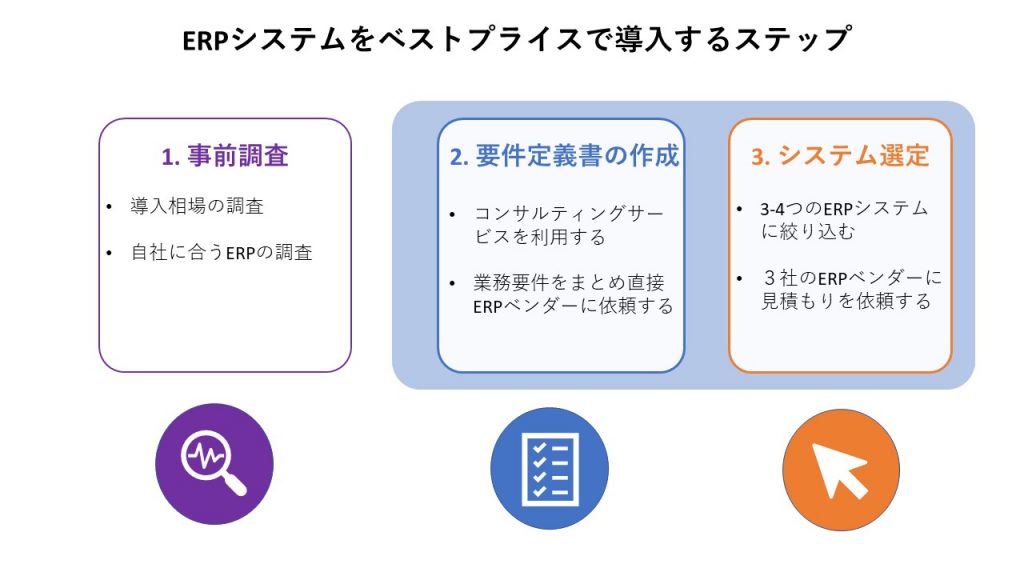 Creation of Requirements Analysis Document
First of all, when requesting a project quote from an ERP vendor, a summary of requirements is necessary to get at least a somewhat accurate estimate.  For future budget planning, the overview of requirements should include project objectives, schedules, required functional modules, business/system requirements, general business flow, current system diagrams and functions, etc.  If you haven't prepared your requirements yet, you can ask a business consultant to analyze and create a document for your requirements definition.  Alternatively, you can directly select one or two ERP vendors and ask them to make a brief interview and request a rough estimate.
System Selection
Next, based on the information from the preliminary survey, compare 3 to 4 ERP system used in the same industry as yours that meet your needs. (For more information on system selection, please refer to ERP Implementation Guide: How to Select an ERP).
Once you have a good idea of ​​what solution is right for you, ask three vendors for a quote. (Some solutions are sold directly by the software developer, so it may not be possible to request a quote from multiple vendors.)
At this point, you can request quotations of the same ERP system from three different vendors, giving you (1) an idea on market price and (2) reference for price comparison, which then allows you to determine the appropriate price for implementation. For an example of the actual introduction amount, see How Much Does An ERP System Cost?  Also check ERP Project – Fixed Bid or Time and Materials? for insights on key points to keep project within budget.
If you have any questions about ERP system implementation, please feel free to contact Calsoft Systems anytime.
---