Cloud ERP is a type of enterprise resource planning (ERP) software that runs on a cloud computing platform. It can be delivered as a subscription service or as a cloud-based application. In a cloud based ERP, all software and data are stored on remote servers and accessed via the internet, making them more flexible and scalable while eliminating the need for on-premises hardware or software.
Cloud ERP provides users with the flexibility to access cloud-based applications from any location and from any device with an Internet connection. It also allows for real-time collaboration between users, as well as scalability to accommodate changing business needs – giving you peace of mind knowing your organization's data isn't left behind!
A cloud ERP software typically includes modules for accounting, inventory, customer relationship management (CRM), human resources (HR), and supply chain management (SCM).
Cloud ERP systems have become increasingly popular in recent years, as they offer a number of advantages over traditional on-premises ERP systems. As a result, almost all major ERP vendors in the world are also converting to the cloud. When selecting an ERP for your company, you may want to know the differences between conventional and cloud ERP.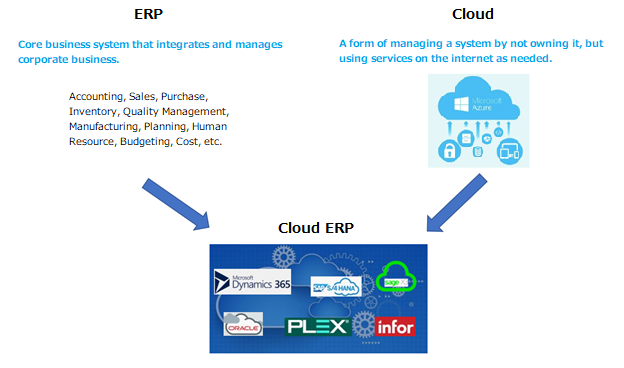 There are two main types of cloud ERPs used in companies. Let's look at each feature.
Type 1 – SaaS (Software as a Service)
It is a SaaS type cloud ERP that is currently mainstream. The SaaS type is a form in which ERP software on a cloud server provided by a vendor is used via the Internet. The vendor updates the system on a regular basis, which ensures that users always have access to the latest version of the system. Basically, a fixed amount or pay-as-you-go charge is included in the monthly fee, including ERP, database license, server software, hardware, and other infrastructure environments. Usually, you pay the fee determined by the number of users and the function.
Type 2 – IaaS (Infrastructure as a Service)
The IaaS type is a form in which the ERP system that the company is already using or intends to use is installed on a cloud server in the data center and used via the Internet in the same way as SaaS. For Iaas type, we usually purchase ERP, database license, server software other than OS, etc., and use the ERP system while owning the license. The contents such as software are managed in-house, version upgrades are performed based on decided timing, and upgrade costs are paid each time.
There are two types of IaaS types: one is to purchase the OS and database server software and own it, and the other is to subscribe by paying a monthly fee without purchasing it.
Characteristics of Cloud ERP
The cost types and characteristics of SaaS and IaaS type are summarized below:
Saas (Software as a Service)
| | |
| --- | --- |
| Software License | Use the system by paying a monthly fee according to the number of users and usage functions. |
| Implementation Service | In many cases, the key features of SAAS ERP have already been set up so that users can use the system immediately. Since it is not necessary to build an environment to operate the system, it can be installed in a shorter time than general on-premises services. |
| Annual Enhancement Fee | No Annual Enhancement fee. |
IaaS (Infrastructure as a Service)
| | Purchase | Lease |
| --- | --- | --- |
| Software License | Purchase software and hardware. | Pay hardware and software leasing fees according to the number of users. |
| Implementation Service | Pay the partner a fixed amount or the total cost for the ERP implementation service. | Same as left. |
| Annual Enhancement Fee | Pay the Annual Enhancement fee for the first year in advance. This comes with a new version license etc. at the time of upgrade. | No Annual Enhancement fee. An upgrade license is included in the monthly fee. |
What are the benefits of Cloud ERP?
One of the biggest benefits of cloud ERP is that it allows businesses to avoid the significant upfront costs associated with on-premises ERP deployments. In addition, cloud ERP systems are much easier to scale than traditional on-premises deployments, as they can be easily expanded to meet the changing needs of the business. Other benefits of migrating to the cloud are that it offers a high degree of flexibility, as users can access the system from anywhere in the world. Finally, cloud ERP systems are often more reliable than on-premises deployments, as they benefit from the expertise of the cloud provider. As a result, they offer a number of advantages that make them an attractive option for businesses of all sizes.
Cloud ERP also offers a pay-as-you-go subscription model, which makes it more affordable for small and medium-sized businesses.
Some of the benefits of cloud ERP include lower upfront costs, scalability, flexibility, and increased security. In addition, it provides real-time visibility into business data and enables collaboration across departments and geographical locations.
Read more: Cloud ERP vs On-Premise ERP – Which Is Better?
Read more: How Dynamics 365 ERP Enables a Remote Workplace
How do I migrate to the cloud?
Small businesses often lack the resources to manage and maintain their own in-house IT infrastructure. For this reason, many of them are turning to cloud-based ERP solutions for their computing needs. If your small business is considering a move to cloud ERP, here are some things you need to know.
Understand the business reasons for moving to the cloud
The costs and risks associated with upgrading an on-premises system can be costly, sprawling, and uncertain. Upgrades may also disrupt your business's workflow.
Select your cloud implementation partner
The best way to ensure a successful project is to choose cloud ERP implementation partner with experience and knowledge within your industry. Choose an implementation partner with a strong track record!
Select your cloud ERP platform
Making the decision to move your business to the cloud is a big one. But once you've made that decision, the next step is to choose the right platform for your ERP system. So how do you make sure you pick the right one? Here are four questions to ask yourself before making a decision.
1. What are my business needs?
2. What features does each platform offer?
3. How much support and training will I need?
4. What's my budget?
Understanding your business needs is key; not every platform offers the same features, and some platforms may be more suited to your company size or budget than others. Make sure you compare all of your options and find the best fit for your company's unique needs.
Read more: How to Migrate from Dynamics GP to Dynamics 365 Business Central
Conclusion
If you're considering an ERP solution for your business, cloud ERP is definitely worth considering. Cloud ERP solutions offer a number of benefits, including increased flexibility, scalability, and cost-savings. In addition, cloud ERP systems are typically easier to update and maintain than on-premises systems.
Take the first step to migrate to a cloud ERP
About Calsoft
For over 20 years, Calsoft has dedicated its business to answering customer needs through world-class services in solution implementation and development. As a certified Gold Partner of Microsoft, we have completed numerous Microsoft Dynamics projects. Our goal is to help you maximize business results by improving the efficiency of your company's operation.